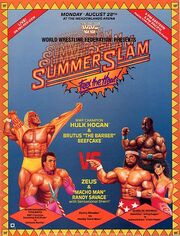 Results:
Edit
The Brain Busters (Arn Anderson and Tully Blanchard) (with Bobby Heenan) defeated The Hart Foundation (Bret Hart and Jim Neidhart).
Dusty Rhodes defeated The Honky Tonk Man (with Jimmy Hart).
Mr. Perfect defeated The Red Rooster.
Rick Martel and The Fabulous Rougeaus (Jacques and Raymond) (with Jimmy Hart) defeated Tito Santana and The Rockers (Marty Jannetty and Shawn Michaels).
The Ultimate Warrior defeated Rick Rude (with Bobby Heenan) to win the Intercontinental Championship.
Jim Duggan and Demolition (Ax and Smash) defeated Andre The Giant and The Twin Towers (Akeem and Big Boss Man) (with Bobby Heenan and Slick).
Greg Valentine (with Jimmy Hart) defeated Hercules.
Ted DiBiase (with Virgil) defeated Jimmy Snuka by countout.
Main Event
Edit
Hulk Hogan and Brutus Beefcake (with Miss Elizabeth) defeated Randy Savage and Zeus (with Sensational Sherri).
Ad blocker interference detected!
Wikia is a free-to-use site that makes money from advertising. We have a modified experience for viewers using ad blockers

Wikia is not accessible if you've made further modifications. Remove the custom ad blocker rule(s) and the page will load as expected.