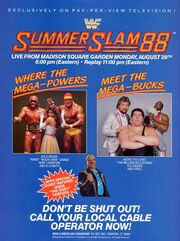 Main Event
Edit
The Mega Powers (Randy Savage and Hulk Hogan) (with Miss Elizabeth) defeated The Mega Bucks (Ted DiBiase and Andre The Giant) (with Bobby Heenan and Virgil) with Jesse Ventura as the special guest referee.
Ad blocker interference detected!
Wikia is a free-to-use site that makes money from advertising. We have a modified experience for viewers using ad blockers

Wikia is not accessible if you've made further modifications. Remove the custom ad blocker rule(s) and the page will load as expected.