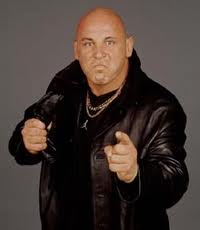 In early 2005, Vito worked dark matches for the now renamed World Wrestling Entertainment and signed a contract with them in July.
Vito made his debut on WWE television on the August 6 episode of WWE Velocity, where he helped Nunzio win the WWE Cruiserweight Championship from Paul London. Together Vito and Nunzio reformed the Full Blooded Italians stable, acting mostly as a tag team together on Velocity with scattered appearances on SmackDown!.
Vito and Nunzio once again (after a short flirtation with being face with a brief feud against then-heel, Gregory Helms) in March 2006 under an angle in which Vito announced that he wanted to be recognized as a "Godfather" and he would wear a blazer and glasses.
Beginning in May, various wrestlers such as Orlando Jordan and Paul Burchill began approaching Nunzio in backstage situations and spreading rumors that they had, in storyline, seen Vito in public places in various forms of cross-dressing. Nunzio originally wouldn't hear of any such thing until the June 2 SmackDown! when Vito came down the ramp, in a dress, to collect Nunzio after losing a match. The next week, after arguing about Vito's clothing choices, the two former friends faced each other in a match which Vito won after hitting Nunzio with The Code of Silence. Not long after, Nunzio joined the ECW brand, leaving Vito on SmackDown! alone.
Regardless of his passion for cross dressing, Vito continually explained that he was a straight man; including one instance of asking Diva Ashley Massaro out on a date while wearing a dress, to which she agreed. After this he began to "have more fun" during his matches, running around and waving his dresses and otherwise interacting with the fans, turning him once again face. As the gimmick took off various people began kayfabe voicing problems with a man wrestling while wearing a dress, including color commentator John "Bradshaw" Layfield (who refused to do commentary with him) and wrestlers Montel Vontavious Porter and William Regal who threatened SmackDown General Manager Theodore Long with a sexual harassment lawsuit to get out of a match with Vito. At the same time, WWE began to "censor" any incidents of Vito's dress raising and exposing his (bethonged) buttocks. Despite his detractors, once he started wearing a dress Vito began an undefeated streak which didn't end until over four months later when he was defeated by Elijah Burke after interference from his partner Sylvester Terkay.
On May 15, 2007, Vito was released from his WWE contract.
Ad blocker interference detected!
Wikia is a free-to-use site that makes money from advertising. We have a modified experience for viewers using ad blockers

Wikia is not accessible if you've made further modifications. Remove the custom ad blocker rule(s) and the page will load as expected.