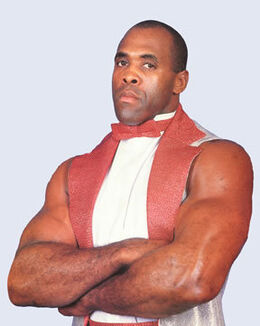 Moving to the World Wrestling Federation (WWF), he first appeared as a jobber wrestling under the name Lucius Brown, losing a squash match to "Mr. Wonderful" Paul Orndorff.
He then went on to debut in the summer of 1987 as Virgil, the bodyguard for "Million Dollar Man" Ted DiBiase. Virgil carried DiBiase's cash that he liked to flaunt and was the one who got beaten up while DiBiase ran away after a devious act against a face.
Eventually, Virgil got tired of being humiliated by DiBiase and turned on him, hitting him with his own Million Dollar Title belt at the Royal Rumble in January 1991. After forming a friendship and training with Roddy Piper, he defeated DiBiase by count-out at WrestleMania VII and pinned him for the belt on August 26, 1991 at SummerSlam. He lost the belt back to DiBiase in November of that year as a result of outside interference by the Repo Man. This led to a tag team match at the This Tuesday in Texas PPV, where Repo Man and DiBiase defeated Virgil and Tito Santana.
At WrestleMania VIII, Virgil teamed with The Big Boss Man, Sgt. Slaughter, and Jim Duggan to defeat The Nasty Boys (Brian Knobs and Jerry Sags), Repo Man, and The Mountie. Virgil pinned Knobs following a heel miscommunication. He would then primarily be used to put over numerous rising talents. However, he did receive a shot at Bret Hart's WWF Championship on the November 21, 1992 episode of WWF Superstars. After a valiant effort, Virgil submitted to Hart's Sharpshooter. After the match, the two shook hands out of respect. Virgil then remained in the undercard until he left the company in mid-1994. His last appearance on a PPV event was the 1994 Royal Rumble where he was a late substitute for Kamala.
On the May 17, 2010 episode of Monday Night Raw from Toronto, Ontario, Canada, Virgil returned to WWE, this time with Ted DiBiase, Jr. He carried out all of his old actions, such as holding the ropes open for DiBiase and bringing him a microphone when asked. On the June 14 episode of Raw, Virgil and DiBiase were in a tag team match against Big Show and Raw guest host Mark Feuerstein. After Virgil got pinned and lost the match, DiBiase stuffed a $100 bill in Virgil's mouth and walked out on him. The following week DiBiase first apologized to Virgil, but then fired him and replaced him with Maryse.
Ad blocker interference detected!
Wikia is a free-to-use site that makes money from advertising. We have a modified experience for viewers using ad blockers

Wikia is not accessible if you've made further modifications. Remove the custom ad blocker rule(s) and the page will load as expected.