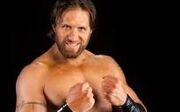 On the November 3 episode of ECW, Archer made his debut on the brand as an intense heel, defeating a local competitor. After defeating several enhancement talents over the following weeks, Archer defeated Tommy Dreamer on the December 8 episode of ECW. Archer continued his winning streak when he once again defeated Dreamer on the December 17, 2009 episode of WWE Superstars. On the December 22 episode of ECW, Archer defeated Goldust in an "ECW Homecoming" qualifying match to advance to a battle royal where the winner would face ECW Champion Christian at Royal Rumble for the ECW Title. He then started a feud with Shelton Benjamin, which saw Archer lose to him via disqualification on the December 31 episode of Superstars. However, Archer's unpinned streak was left intact. On the January 12, 2010 episode of ECW, Archer was unable to win the "Homecoming Battle Royal" as he was eliminated by Benjamin. The next week on Superstars, Archer was defeated by Benjamin, thus breaking his streak of not being pinned. The two continued to exchange victories, as Archer defeated Benjamin on the February 2 episode of ECW while Benjamin defeated Archer in a no disqualification match the following week. Hoyt made his WrestleMania debut on March 28, 2010 as he competed in a 26-man pre-show battle royal at WrestleMania XXVI, where he was eliminated.
Following the disbanding of the ECW brand, Archer competed in dark matches and was eventually moved to the SmackDown brand, forming a tag team with Curt Hawkins. They made their television debut as a team on the May 13 edition of WWE Superstars, defeating two local competitors. After the match, Hawkins stated that he and Archer had been given a 30-day contract to "make an impact." The team made its SmackDown debut on the May 21 episode, winning another squash match. In an attempt to make an impact, the duo attacked Montel Vontavious Porter (MVP) and Christian on consecutive episodes of SmackDown on June 4 and June 11, which they followed up on by defeating both in a tag team match on June 18. The next week the duo was officially named "The Gatecrashers".
The team came to an end on the October 7 airing of Superstars after a match between Archer and Chris Masters. Archer accidentally struck Hawkins outside the ring, after which the two argued and a distracted Archer lost the match. Afterwards, Hawkins assaulted Archer. Archer returned to singles competition on the November 4 edition of Superstars, losing to Luke Gallows.
On November 19, 2010, Archer was released from his contract along with five other Superstars.