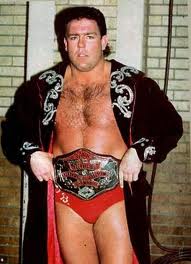 In the WWF, Blanchard and Arn Anderson were dubbed "The Brain Busters" and paired with heel manager Bobby Heenan. The team defeated Demolition for the WWF Tag Team Championship on July 18, 1989 (aired July 29 on Saturday Night's Main Event), ending Demolition's historic first reign, but lost them back to Demolition on October 2, 1989 (aired November 4 on WWF Superstars of Wrestling).
Heenan and the Brain Busters broke up on the November 25, 1989 edition of Saturday Night's Main Event (taped October 31, 1989). Around that time, Blanchard failed a drug test, testing positive for cocaine and causing his premature departure from the WWF. Bobby Heenan himself replaced Blanchard as part of the Heenan Family team at the Survivor Series a month later.
It was reported on October 23, 2006, that Blanchard was working for World Wrestling Entertainment as a Road Agent/Producer. He left not long after, due to problems with JBL backstage.
On the March 31, 2008 edition of WWE Raw, Blanchard reunited with Arn Anderson, J.J. Dillon, and Barry Windham to salute the recently retired Ric Flair.
On March 31, 2012, Tully Blanchard was inducted into the WWE Hall of Fame as a member of the Four Horsemen.
Ad blocker interference detected!
Wikia is a free-to-use site that makes money from advertising. We have a modified experience for viewers using ad blockers

Wikia is not accessible if you've made further modifications. Remove the custom ad blocker rule(s) and the page will load as expected.