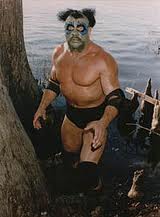 He made his WWF debut on May 20, 1985, in Madison Square Garden; he was accompanied to the ring by manager
Bobby "The Brain" Heenan
and defeated
S.D. Jones
in less than two minutes. In September 1985, Heenan traded The Missing Link and
Adrian Adonis
to manager
Jimmy Hart
in exchange for
King Kong Bundy
. He abruptly left the WWF in October 1985.
During his brief run in the WWF, most of his matches were against jobbers. Many times, he defeated S.D. Jones, George Wells, Rick McGraw, Salvatore Bellomo, Tony Garea, Jose Luis Rivera, Lanny Poffo, and Swede Hanson. However, he typically lost when matched against other stars. His first recorded loss in the WWF came on July 22, 1985, at the Nassau Coliseum, against George "The Animal" Steele. On July 24, in Buffalo, New York, he lost to Bruno Sammartino by countout. During this match, he busted several of the chairs in which the ringside commissioners were sitting and the incident almost had the WWF banned from the city. On August 18, he was pinned by Intercontinental Champion Tito Santana at the first-ever WWF show in Tampa, Florida. He also lost matches to Ivan Putski, Tony Atlas, and B. Brian Blair. While in the WWF, he fought Mad Dog Vachon three times: a draw at the Met Center in Minneapolis (August 25); a win by countout in Milwaukee (September 5); and a loss in Denver (September 20). In his final televised match, which aired on WWF Prime Time Wrestling on November 12 (taped October 12 at the Boston Garden), Paul Orndorff pinned The Missing Link in less than five minutes with a high knee after the Link was distracted by his manager, Jimmy Hart, shouting into his megaphone on the ring apron; this was a $50,000 bounty match (Heenan would have paid the Link the bounty if the Link had put Orndorff out of action).
He died on August 16, 2007.
Ad blocker interference detected!
Wikia is a free-to-use site that makes money from advertising. We have a modified experience for viewers using ad blockers

Wikia is not accessible if you've made further modifications. Remove the custom ad blocker rule(s) and the page will load as expected.