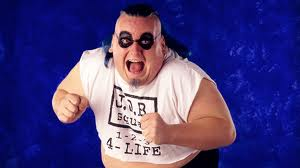 The Meanie made his World Wrestling Federation debut on the November 22, 1998 episode of Sunday Night Heat. He spent some time in the WWF as part of Al Snow's J.O.B. Squad. He rose to short prominence as "Bluedust", parodying Goldust. In a memorable moment, Bluedust caused Goldust to lose to Gillberg, giving Gillberg his first victory. Bluedust and Goldust were pitted against one another at WWF's St. Valentine's Day Massacre: In Your House pay-per-view, a match Goldust eventually won. The Meanie would later be pulled under Goldust's "spell" of sorts, calling him "mommy". He would serve as a manager for Goldust, where he bickered with Goldust's other manager, Ryan Shamrock. After Goldust dumped both Meanie and Shamrock, Meanie would make little headway in the WWF and left shortly thereafter.
He would return at WWE's ECW One Night Stand pay-per-view on June 12, 2005.
On the July 7 episode of SmackDown!, the bWo drove to ringside in JBL's limousine then proceeded to spraypaint "bWo" on the hood. This led to a No Disqualification match between JBL and Meanie later that evening, which The Blue Guy won following interference from Stevie Richards (his Steel Chair Shot to the head gave JBL a bleeding wound), a Spinebuster from World Heavyweight Champion Batista, and Meanie's Moonsault finishing move. The Mexicools then defeated the trio in a six-man tag match at The Great American Bash on July 24 in Buffalo, New York.
Ad blocker interference detected!
Wikia is a free-to-use site that makes money from advertising. We have a modified experience for viewers using ad blockers

Wikia is not accessible if you've made further modifications. Remove the custom ad blocker rule(s) and the page will load as expected.