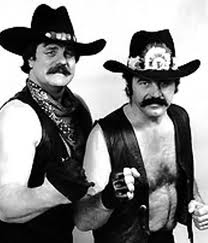 Blackjack Mulligan and Blackjack Lanza won the WWWF Tag Team Championship (with Lou Albano as their manager) on August 26, 1975 by defeating Dominic DeNucci and Victor Rivera.
On April 1, 2006, The Blackjacks were inducted into the WWE Hall of Fame by Bobby Heenan.
In early 1997, Mulligan's son, Barry Windham, and Lanza's nephew, Justin "Hawk" Bradshaw, formed The New Blackjacks in the WWF. They were known as Blackjack Windham and Blackjack Bradshaw, and competed as babyfaces. The team never reached the success of their predecessors and disbanded in January 1998, as Windham turned on Bradshaw.
Ad blocker interference detected!
Wikia is a free-to-use site that makes money from advertising. We have a modified experience for viewers using ad blockers

Wikia is not accessible if you've made further modifications. Remove the custom ad blocker rule(s) and the page will load as expected.