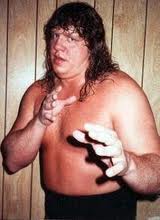 In 1984, Gordy came to the WWF with Michael "P.S." Hayes and Buddy "Jack" Roberts as the Fabulous Freebirds, but soon left after only a couple of months.
He had a brief run in the WWF as The Executioner in 1996. He teamed with Mankind, both managed by Paul Bearer, and feuded with The Undertaker. The Executioner would come to the ring under a mask and carry a plastic axe. The Executioner made his TV debut at the In Your House pay-per-view, Buried Alive, where he interfered in The Undertaker's Buried Alive match with Mankind, hitting him with a shovel and burying him with the help of several other wrestlers. However, at In Your House 12: It's Time, The Undertaker made short work of The Executioner in an Armageddon Rules match, and Gordy left the promotion shortly afterwards.
He passed away on July 16, 2001.
On February 29, 2016, it was announced that Gordy, along with fellow Freebirds Hayes, Roberts and Jimmy Garvin, would be inducted into the WWE Hall of Fame.
Ad blocker interference detected!
Wikia is a free-to-use site that makes money from advertising. We have a modified experience for viewers using ad blockers

Wikia is not accessible if you've made further modifications. Remove the custom ad blocker rule(s) and the page will load as expected.