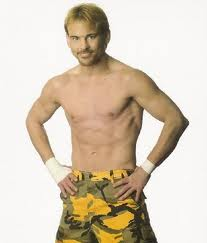 Spike teamed with Kane to challenge the Dudley Boyz for their World Tag Team Championship in a losing effort after receiving a 3D. In late 2001, Spike had an on-screen courtship with Molly Holly, during a feud between the Dudley Boyz and The Holly Cousins, leading to the rivalry being exacerbated. During The Invasion, Spike remained loyal to WWF, failing to join The Alliance. It was during The Invasion that his relationship with Molly came to an end when she turned on him, aligning herself with The Hurricane.
Spike wrestled mainly as a face during his time in WWE. His feuds and alliances with his two older brothers, Ray and D-Von often took center stage, but he formed short-lived tag teams with The Big Show, Bubba Ray, and Tazz, the last of which he became a tag team champion with by defeating his brothers in 2002. In that same year, he won the European once and the Hardcore championship on eight separate occasions. Dudley would also mend fences with his brother, Bubba, and the pair teamed up to take on The Un-Americans in late 2002.
Dudley was injured after a missed spot during a 10-man tag match on Raw in September 2003. La Résistance threw Dudley to the outside but Dudley missed the table that he was supposed to crash through. After some time away from the ring, Spike returned and defeated René Duprée to get revenge for the injury.
In 2004, Spike was drafted to the SmackDown! brand, where he at one point held the WWE Cruiserweight Championship. During this time, Dudley's biggest exposure came when he turned into a villain by attacking popular face wrestler Rey Mysterio; he then began to wrestle as the "boss" of the Dudley Boyz. Besides starting a feud with Mysterio, he also started feuds with then-babyface, Billy Kidman, Paul London and John Cena. He eventually lost the Cruiserweight Championship to Funaki at Armageddon. He made his last appearance with WWE at ECW One Night Stand on June 12, 2005, helping the Dudleys win their tag team match. Spike was released from his WWE contract on July 5, 2005 along with seven other wrestlers in what was thought to have been a cost-cutting measure by the company.
Ad blocker interference detected!
Wikia is a free-to-use site that makes money from advertising. We have a modified experience for viewers using ad blockers

Wikia is not accessible if you've made further modifications. Remove the custom ad blocker rule(s) and the page will load as expected.