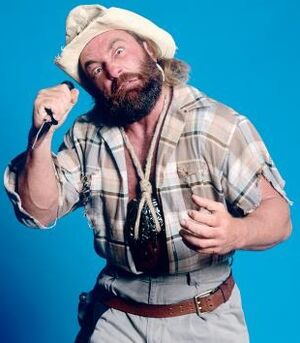 In the summer of 1991, Skinner debuted in the WWF as an alligator hunter from the Florida Everglades. He was portrayed as a generally nasty individual, always chewing on tobacco and sometimes spitting it on his opponent. He carried an alligator claw to the ring with him, which he would often use as a weapon against his opponents. He competed in the 1991 King of the Ring tournament, defeating Virgil in the first round but losing to Bret Hart in the second round. While still being billed as undefeated, he challenged Hart for the WWF Intercontinental Championship at This Tuesday in Texas on December 3, 1991 but lost by submission. At WrestleMania VIII, Skinner was defeated in one minute and eleven seconds by Owen Hart.
While in the WWF, Skinner also portrayed Doink the Clown on occasion. At WrestleMania IX, he helped the original Doink defeat Crush by attacking Crush dressed as Doink during the match.
In 2012, he became a trainer for WWE's new territory, NXT under his real name, Steve Keirn.
Ad blocker interference detected!
Wikia is a free-to-use site that makes money from advertising. We have a modified experience for viewers using ad blockers

Wikia is not accessible if you've made further modifications. Remove the custom ad blocker rule(s) and the page will load as expected.