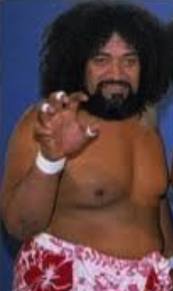 In 1979, they signed with the World Wrestling Federation (now World Wrestling Entertainment). Along with Afa, Sika held the WWF Tag Team Championship on three occasions. They won their first title in the WWF by defeating the team of Ivan Putski and Tito Santana on April 12, 1980. The Wild Samoans held the belts for almost four months before losing them to Bob Backlund and Pedro Morales on August 9. The title was vacated the following day, however, because Backlund already held the WWF Championship and could not defend both titles. A tournament was held to select the new champions, and The Wild Samoans defeated Tony Garea and Rene Goulet to regain the belts.
After losing the title to Garea and Rick Martel, the Wild Samoans left the WWF.
Not too long after, the Wild Samoans returned to the WWF. They won their third and final WWF Tag Team Championship on March 8, 1983 by defeating Jules Strongbow and Chief Jay Strongbow. Four days later, Sika sustained an injury during a match. As a result, he was forced to take time off while his nephew Samula Anoa'i helped defend the title in his place. After Afa left the WWF, Sika teamed with Kamala and was managed by King Curtis Iaukea until Mr. Fuji took over management of the team. Sika also headlined the October 3, 1987 edition of Saturday Night's Main Event against Hulk Hogan. On March 27, 1988 Sika was a part of the battle royal at WrestleMania IV, but he did not win.
On the March 23, 2007 edition of WWE Friday Night SmackDown, it was announced that Afa and Sika would be inducted into the WWE Hall of Fame as part of the Class of 2007. On March 31, 2007, the Wild Samoans were inducted into the WWE Hall of Fame by Afa's son, Samu, and Sika's son, Rosey.
Ad blocker interference detected!
Wikia is a free-to-use site that makes money from advertising. We have a modified experience for viewers using ad blockers

Wikia is not accessible if you've made further modifications. Remove the custom ad blocker rule(s) and the page will load as expected.