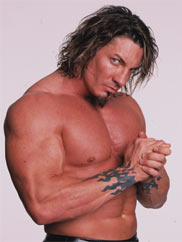 O'Haire (with Chuck Palumbo) made their WWF debuts on the June 28, 2001, episode of SmackDown! as part of The Alliance, attacking the Hardy Boyz. O'Haire and Palumbo started feuding with the A.P.A. in the following weeks, which ended at WWF Invasion on July 22 when the APA defeated them. Subsequently, O'Haire and Palumbo defeated the Hardy Boyz on the August 2, 2001 edition of SmackDown!.
O'Haire and Palumbo next dropped the WWF Tag Team titles to the Brothers of Destruction (The Undertaker and Kane) on the August 9 edition of SmackDown! and lost their rematch for the tag-team gold in a steel cage match the following week on Raw. O'Haire and Palumbo's last televised match together was on the August 26 edition of Heat defeating The Holly Cousins, Hardcore and Crash.
Palumbo was thrown out of The Alliance in late October and joined the WWF in November. O'Haire returned to WWE on the June 30, 2002 edition of Heat, defeating Justin Credible. He made a few more appearances on Heat, in dark matched and at house shows throughout the rest of 2002, facing off against and teaming with the likes of Shawn Stasiak, Doug Basham, Damaja, Crash Holly, D'Lo Brown, Johnny Stamboli, Shelton Benjamin, Charlie Haas, Christopher Nowinski, Raven, and Credible.
In January 2003 vignettes started to appear on WWE programming showing O'Haire in his new gimmick—a Devil's advocate character. He urged people to commit adultery, break the law, not pay taxes, and not go to church, among other things. He ended each vignette with the line "I'm not telling you anything you don't already know". In 2003, O'Haire returned to the main SmackDown! roster, telling various superstars to perform indecent acts which included persuading Spanky to streak through the arena and Dawn Marie to flash the audience. O'Haire's dark persona included a long black trench coat he wore to the ring and his obsession with spiders, including fairly new tattoos with black flames on each wrist and a red spider web shooting out from the flames on his left wrist and a blue spider web on his right wrist. Also on the inside of his left forearm was a blue spider and on the inside of his right forearm was a red spider. His titantron video was also inside the body of a spider with a spiderweb in the background.
O'Haire quickly came under the tutelage of wrestling legend, 'Rowdy' Roddy Piper in April 2003. O'Haire's new persona was abandoned but he held victories over Rikishi, Funaki, Mr. America (Hulk Hogan) by count out, Chris Benoit, and Eddie Guerrero. WWE officially released Piper from his contract on June 26, 2003, right after O'Haire and Piper made their last appearance together on SmackDown!. O'Haire was left to fend for himself and spent the majority of the rest of 2003 in matches on Velocity, dominating anyone in his path until late November.
O'Haire passed away on September 8, 2014.
Ad blocker interference detected!
Wikia is a free-to-use site that makes money from advertising. We have a modified experience for viewers using ad blockers

Wikia is not accessible if you've made further modifications. Remove the custom ad blocker rule(s) and the page will load as expected.