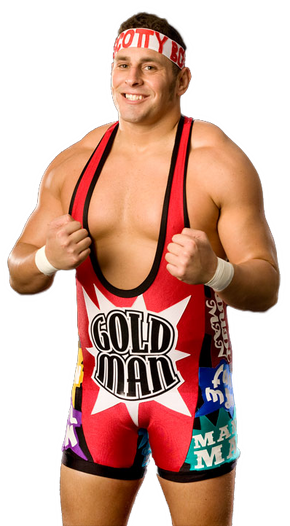 On the August 15, 2008 episode of SmackDown, Scotty made his debut, losing to The Brian Kendrick. On the August 22 episode of SmackDown, Goldman was a participant in the 10-man battle royal match to determine a qualifier for the WWE Championship scramble match at Unforgiven. Goldman lost after being eliminated by Curt Hawkins and Zack Ryder. His last singles match on SmackDown! was a quick loss against The Great Khali. He appeared in an Elimination Chamber qualifying battle royal on the February 6, 2009 edition but was eliminated first. This was his first appearance on TV in almost five months. Goldman had a show on WWE.com, called Good as Goldman, formerly known as What's Crackin'?, which premiered on January 14, 2009. He, however, was released from his WWE contract on February 20, 2009. His final match for WWE was a defeat by Umaga and was aired on the February 20 episode of SmackDown.
On August 2, 2011, Goldman wrestled a dark match for WWE at a SmackDown taping, losing against Wade Barrett.
Ad blocker interference detected!
Wikia is a free-to-use site that makes money from advertising. We have a modified experience for viewers using ad blockers

Wikia is not accessible if you've made further modifications. Remove the custom ad blocker rule(s) and the page will load as expected.