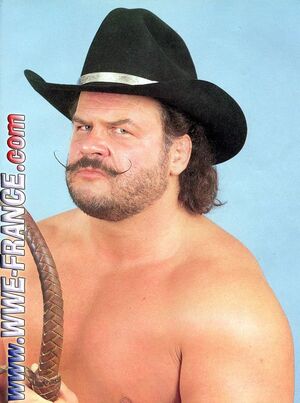 In 1987, Bass (using the "Outlaw" name) went to the
World Wrestling Federation
(WWF), where he voiced challenges to the likes of
WWF champion
Hulk Hogan
and
Brutus Beefcake
. It appeared that a feud was in the works for Bass against
Blackjack Mulligan
who had just returned to WWF but the plug was pulled on the feud once Mulligan got angry with the WWF office and left. At that point Bass quickly settled into a role in the midcard position, wrestling against
Hillbilly Jim
,
Lanny Poffo
and
Sam Houston
on many house show events. Later on he was part of the five-man team captained by
The Honky Tonk Man
at the
inaugural Survivor Series
 pay-per-view on Thanksgiving Day 1987 (he was eliminated by Beefcake). He also participated in the very first
Royal Rumble
and the 20-man battle royal at
WrestleMania IV
. He was eliminated at the latter event by the
Junkyard Dog
; a feud between the two began in the months after WrestleMania after Bass choked and dragged the Dog with his bullwhip, "Miss Betsy," in a sneak attack on
Wrestling Challenge
.

At the 1988 King of the Ring tournament, Bass qualified for the final after beating a young Shawn Michaels but was paid by Ted DiBiase to fake an injury. Bass began his most notable WWF feud with Beefcake in August 1988, gouging Beefcake's head open with his spurs ("Bret" and "Bart") on an episode of Superstars of Wrestling; the attack caused Beefcake to miss his scheduled Intercontinental championship match against the Honky Tonk Man at the first SummerSlam event on August 29. Bass and Honky co-captained a five-man contingent against a team captained by Beefcake and the Ultimate Warrior at the second Survivor Series in November. Bass and teammate Greg Valentine were eliminated by Warrior in succession in the final minute of the match. On the January 7, 1989 edition of Saturday Night's Main Event, Bass lost to Beefcake via sleeperhold in a hair vs. hair match. He competed in the 1989 Royal Rumble  (sans hair), Bass' feud with Beefcake was scrapped, and he was used mainly as a preliminary wrestler and left the WWF shortly thereafter.
Ad blocker interference detected!
Wikia is a free-to-use site that makes money from advertising. We have a modified experience for viewers using ad blockers

Wikia is not accessible if you've made further modifications. Remove the custom ad blocker rule(s) and the page will load as expected.