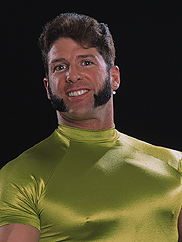 He debuted in WWF on the March 21, 2002 episode of SmackDown! as the stylist of Billy and Chuck (the heel gimmicks of Billy Gunn and Chuck Palumbo), establishing himself as a villain. On the May 9 episode of SmackDown!, Rico wrestled his first match in WWF, where he teamed with Billy and Chuck to defeat Al Snow, Maven and Rikishi. At Judgment Day, Rico was forced to team with Rikishi to defeat his clients, Billy and Chuck for the World Tag Team Championship. On the June 6 episode of SmackDown!, Rico turned on Rikishi by helping Billy and Chuck in pinning Rikishi for the tag titles.
On the September 12, 2002 episode of SmackDown!, Rico moved over to Raw brand and became the manager of 3-Minute Warning (then-heel, Rosey and Jamal). He ended up turning on 3-Minute Warning after they lost a match to the Dudley Boyz. However both he and 3-Minute Warning all remained heels during that time. After turning on 3-Minute Warning, Rico scored an upset victory over another heel, Ric Flair.
Rico would soon return to Raw in 2003 with Miss Jackie appearing as his manager. Then,on the March 22, 2004 edition of Raw, Rico got drafted to SmackDown! and became a fan favorite due to fan reaction to his over-the-top gimmick, teaming up with an initially reluctant partner, Charlie Haas, (with whom he held the WWE Tag Team Championship) and had a valet, Miss Jackie. Rico was unexpectedly released by WWE on November 7, 2004.
Ad blocker interference detected!
Wikia is a free-to-use site that makes money from advertising. We have a modified experience for viewers using ad blockers

Wikia is not accessible if you've made further modifications. Remove the custom ad blocker rule(s) and the page will load as expected.