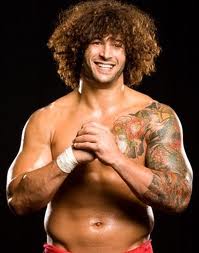 On July 1, 2008, Ricky made his WWE debut as a face under the name "Atlas Ortiz" on the ECW brand, winning his first match against Armando Estrada. The next week on ECW, Tazz and Mike Adamle referred to him as "Ricky Ortiz". He acknowledged the name change in an interview segment on the same show; Lena Yada called him Atlas and he responded by saying, "My friends call me Ricky". On the July 15 edition of ECW, he used the nickname, "The Latin Assassin". Ortiz defeated Chavo Guerrero by disqualification on the July 29 edition of ECW. The next week he beat Guerrero and Bam Neely in a tag team match with Evan Bourne.
Although enjoying a streak of 5-0, on October 7, Ortiz would team with Kofi Kingston, CM Punk, and Evan Bourne against John Morrison, The Miz, Cody Rhodes, and Ted DiBiase in an 8 man tag match losing effort. After a distraction from Manu, Morrison would then perform a Moonlight Drive on Punk and pin him for the victory. This would be Young's first televised loss since debuting on ECW, although he was still undefeated in singles competition. On the December 2 episode of ECW, he suffered his first pinfall loss at the hands of Jack Swagger, who was also undefeated at the time.
On April 15, 2009, Ortiz was drafted to the SmackDown brand as part of the 2009 Supplemental Draft. On the May 15 episode of SmackDown, Ortiz made his debut for the brand as a heel, losing to Jeff Hardy. His last match for WWE was the August 7 episode of SmackDown when he was squashed by The Great Khali. He was released from his WWE contract on August 8, 2009.
Ad blocker interference detected!
Wikia is a free-to-use site that makes money from advertising. We have a modified experience for viewers using ad blockers

Wikia is not accessible if you've made further modifications. Remove the custom ad blocker rule(s) and the page will load as expected.