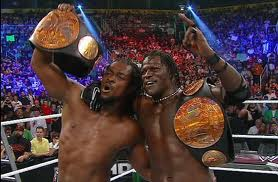 In February 2012, Kofi Kingston and R-Truth began teaming together, facing the Tag Team Champions Primo and Epico and Dolph Ziggler and Jack Swagger, which they both won and lost respectively. On the February 27 edition of Raw, Truth and Kingston failed to capture the WWE Tag Team Championship from Primo and Epico in a Triple Threat Tag Team Match, also involving Ziggler and Swagger. On April 1 at WrestleMania XXVIII, Kingston and Truth were members of Team Teddy to face Team Johnny in a twelve-man tag team match to determine the general manager of both brands, which was eventually won by Team Johnny. On the April 30 episode of Raw, R-Truth and Kofi Kingston defeated Primo and Epico to win the Tag Team Championship. On May 20 at Over the Limit, Kingston and Truth successfully defended the titles against Dolph Ziggler and Jack Swagger and then again in a rematch on the May 28 episode of Raw. In the pre-show of Money in the Bank on July 15, Truth and Kingston defeated Hunico and Camacho in a non-title match. The following night on Raw, they successfully defended the Tag Team Championship against the Prime Time Players (Titus O'Neil and Darren Young), and again at SummerSlam on August 19. On September 16 at Night of Champions, Kingston and Truth lost the Tag Team Championship to the team of Daniel Bryan and Kane and failed to regain the titles from the new champions the following night on Raw. Kingston and Truth were then defeated by The Prime Time Players in the first round of the Tag Team Tournament to determine the number one contenders for the Tag Team Championships, causing both Kingston and Truth to disband as a team and each returning to being single competitors.
On the December 3 episode of Raw, Kingston and R-Truth were scheduled to team against United States Champion Antonio Cesaro and Wade Barrett, but Theodore Long decided to make it a fatal-4-way match for either Cesaro's United States Championship or Kingston's Intercontinental Championship; Cesaro's title was put on the line, but he retained it after pinning Kingston for the win. Two days later on WWE Main Event, Kingston and R-Truth reunited to defeat Barrett and Cesaro in a tag team match. On the February 18th, 2013 edition of Raw Kofi Kingston was scheduled to fight Damien Sandow, but Sandow attacked Kingston before the match. Sandow continued the assault until Truth returned and saved Kingston. During a backstage interview Truth stated that he and Kofi might have went separate ways, but that he still had Kingston's back and was still his friend.
Ad blocker interference detected!
Wikia is a free-to-use site that makes money from advertising. We have a modified experience for viewers using ad blockers

Wikia is not accessible if you've made further modifications. Remove the custom ad blocker rule(s) and the page will load as expected.