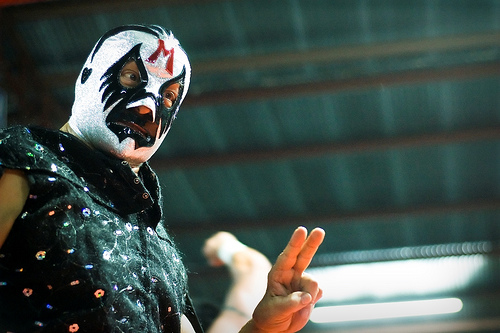 Mil Máscaras appeared in World Wrestling Federation (WWF, now called WWE). He performed at Madison Square Garden several times after a ban on masked wrestlers was lifted for him, making him the first masked wrestler in the Garden, he defeated The Spoiler (who was not permitted to wear his mask). During this time, he feuded with "Superstar" Billy Graham over the WWF World Heavyweight Championship.
Máscaras' first American pay-per-view appearance was competing in WWF's 1997 Royal Rumble match. He eliminated himself, diving off the top rope out of the ring onto Pierroth, Jr., whom he himself had just eliminated.
During the October 16, 2011, taping of WWE SmackDown in Mexico City, it was announced that Máscaras would be inducted into the WWE Hall of Fame in 2012. He was inducted by Alberto Del Rio.
Ad blocker interference detected!
Wikia is a free-to-use site that makes money from advertising. We have a modified experience for viewers using ad blockers

Wikia is not accessible if you've made further modifications. Remove the custom ad blocker rule(s) and the page will load as expected.