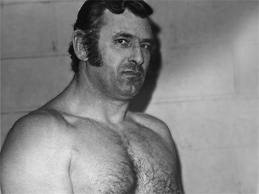 Scicluna was famous for entering the ring with a royal blue cape over his shoulders, indicating that he was of Maltese royal descent. Scicluna was also known for being a master of the "foreign object", mainly utilizing a roll of coins to bash opponents out of sight of the referee. He enjoyed success as a tag team wrestler, winning the WWWF United States Tag Team Championship with Smasher Sloan on September 22, 1966 in Washington, D.C. (though they eventually lost the belts in the same city to Spiros Arion and Antonio Pugliese), then the WWWF World Tag Team Championship with King Curtis Iaukea on February 1, 1972 in Philadelphia.
He was inducted into the WWE Hall of Fame in 1996.
He died on March 20, 2010.
Ad blocker interference detected!
Wikia is a free-to-use site that makes money from advertising. We have a modified experience for viewers using ad blockers

Wikia is not accessible if you've made further modifications. Remove the custom ad blocker rule(s) and the page will load as expected.