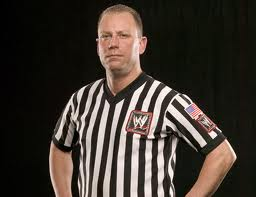 During the WWE Brand Extension, Chioda was sent to
SmackDown!
to become senior referee of that show.
During his tenure on SmackDown, he officiated a match between The Big Show and Brock Lesnar in which Lesnar performed a superplex on Big Show and the ring collapsed. Chioda would rule the match a no contest.
In 2003, he was traded to Raw. Following the firing of Raw's senior referee Earl Hebner in 2005, Chioda was appointed as Raw`s head referee.
At WrestleMania 23, he refereed the match against John Cena and Shawn Michaels but got taken out after being hit with Sweet Chin Music by Michaels.
During his time as Raw brand head referee he would officiate Raw matches such as Triple H vs. Batista at WrestleMania 21, John Cena vs. Triple H at WrestleMania 22, Cena vs. Shawn Michaels at WrestleMania 23 and Cena vs Batista at SummerSlam 2008. He also appeared in an episode WWE Tough Enough's second season.
However, in November 2008, referees were made no longer exclusive to certain brands. Chioda refereed his first match on SmackDown in three years on November 28, 2008, when he refereed the Beat The Clock Match between Shelton Benjamin and Triple H; during the match, Chioda was knocked down and the match ended in controversy when it was decided that Jeff Hardy and Triple H finished their matches in the same amount of time. To settle this, the WWE Championship Match at Armageddon was made a Triple Threat Match.
At the PPV event WWE Over The Limit 2011, The Miz initially defeated John Cena after a cell phone recording of Cena's voice saying "I Quit" was played into the microphone, although when the referee Mike Chioda heard it, he immediately reversed the decision and ordered the match to restart. This led to Cena defeating the Miz and retaining the WWE Championship.
On August 15, 2011, Chioda was suspended for 30 days due to his first violation of the WWE's Talent Wellness Program.
On April 1, 2012, Chioda would referee the match between John Cena and The Rock at Wrestlemania XXVIII in front of 78,363 people attending at Sun Life Stadium, Miami, Florida.
He refereed the main event of WrestleMania 31 between Brock Lesnar and Roman Reigns, turning the scheduled singles match into a triple threat match midway through after Seth Rollins cashed in his Money in the Bank contract mid-match.
Ad blocker interference detected!
Wikia is a free-to-use site that makes money from advertising. We have a modified experience for viewers using ad blockers

Wikia is not accessible if you've made further modifications. Remove the custom ad blocker rule(s) and the page will load as expected.