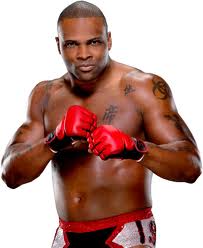 On February 16, 2010, it was announced that Tarver was one of eight newcomers that would be competing on the first season of the
WWE NXT
show, with
Carlito
as his storyline mentor. On the inaugural episode of
NXT
on February 23, Tarver and Carlito were defeated by
Christian
and
Heath Slater
in a tag team match. After six more losses and being ranked second to last in the first Pro's Poll, Tarver picked up his first victory on the May 4 episode of
NXT
by defeating
Daniel Bryan
. Tarver also neglected to perform any of the rookie challenges in
NXT
stating that he was not there to perform menial tasks. On May 11, Tarver was eliminated during the first elimination round of
NXT
alongside Daniel Bryan as they lacked the confidence to continue in the competition.
The week after the NXT season finale, Tarver and the rest of the season one NXT rookies interfered in the main event match between John Cena and CM Punk on Raw, attacking Cena, Punk, the announce team, and the ring announcer Justin Roberts, before dismantling the ring area and surrounding equipment. On the June 14 edition of Raw the rookies (excluding Daniel Bryan) attacked General Manager Bret Hart, when he refused to give them contracts. The following week on Raw, Vince McMahon fired Hart and announced the hiring of a new General Manager, who had signed the seven season one NXT rookies to contracts. The following week the group was named The Nexus. On the July 12 episode of Raw, The Nexus competed in their first match together, without Darren Young, defeating John Cena in a six–on–one handicap match. The Nexus continued to feud with Cena and the Raw roster, resulting in a seven on seven elimination tag match at SummerSlam which saw the return of former Nexus member Daniel Bryan, who aligned himself with team WWE. Tarver was the second person eliminated from the match when he was pinned by John Morrison, and The Nexus went on to lose the match. On the October 4 episode of Raw, Tarver was attacked by Cena, with Barrett later stating that he would have thrown Tarver out of The Nexus anyway. This storyline was put in place due to Tarver sustaining a groin injury. In January 2011, Tarver began mysteriously appearing in the background of backstage segments on both Raw and SmackDown!. During these instances, he often wore a suit jacket, typed on his phone, and quietly smirked at the ongoing situations much to the curiosity of the commentators. Tarver would also be the focus in some segments, being introduced to Alberto Del Rio and watching a tag team match on a TV screen. However, nothing would ultimately come of this, and on June 13, 2011, it was announced that Tarver had been released from his contract.
Ad blocker interference detected!
Wikia is a free-to-use site that makes money from advertising. We have a modified experience for viewers using ad blockers

Wikia is not accessible if you've made further modifications. Remove the custom ad blocker rule(s) and the page will load as expected.