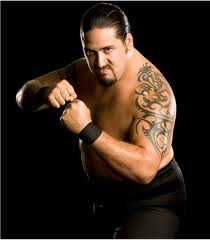 On November 19, 2007, Manu made his debut on WWE television in a losing effort against Jim Duggan at the Heat tapings. Anoa'i was later suspended by WWE for 30 days, on March 20, 2008, for violating WWE Wellness Policy. At Unforgiven, Manu made his debut on the full-time roster. He aligned himself with Cody Rhodes and Ted DiBiase, by attacking Cryme Tyme after their World Tag Team Championship match. Later that night, the three of them helped Randy Orton attack the World Heavyweight Champion CM Punk and Kofi Kingston. On the September 8 edition of Raw Manu, Rhodes and DiBiase defeated Cryme Tyme and Kofi Kingston in a six man tag team match. On the November 17 episode of Raw, he made his singles debut in a losing effort against Batista. During this time, Rhodes, DiBiase and Manu entered a storyline with Randy Orton where Orton constantly criticized and insulted them, and attacked DiBiase on November 3, on Raw. Manu and Rhodes accepted Orton's offer for an alliance in the following weeks, and the trio dubbed themselves "The Legacy".
After Orton grew tired of The Legacy losing matches, he scheduled a test for each member on the December 29 episode of Raw; however, Manu failed to pass his test after he lost to the ECW Champion, Matt Hardy, and was kicked out as his former companions Rhodes and Sim Snuka turned their backs on him. Later Snuka also got kicked out of the group, and the two quickly reunited. They planned to get their revenge on Orton and Rhodes on the January 12, 2009 episode of Raw, with the aid of the returning Ted DiBiase, but DiBiase betrayed them, and joined The Legacy with Orton and Rhodes.
Manu was released from his WWE contract on February 23, 2009. Randy Orton later said that the reason Manu had been released "had a lot to do with his backstage attitude", and stated that Manu "didn't feel like he had to pay his dues".&nbsp
Ad blocker interference detected!
Wikia is a free-to-use site that makes money from advertising. We have a modified experience for viewers using ad blockers

Wikia is not accessible if you've made further modifications. Remove the custom ad blocker rule(s) and the page will load as expected.