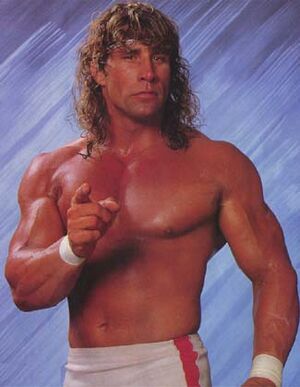 In mid-1990, he signed a contract with Vince McMahon's World Wrestling Federation (WWF) and debuted on the July 28, 1990 edition of Saturday Night's Main Event as a fan favorite under the ring name Texas Tornado, defeating Buddy Rose, who coincidentally was older brother Kevin's opponent when he made his wrestling debut in 1976. At SummerSlam, Tornado substituted for the injured Brutus Beefcake and defeated Mr. Perfect (Curt Hennig) to win the WWF Intercontinental Championship. After he became Champion, Tornado defended the title for three months including a match against Haku on the October 13 edition of Saturday Night's Main Event before losing the title back to former champion Mr. Perfect in a rematch on the December 15 (taped November 19) edition of Superstars. Kerry lost this match, and the title to Perfect due to interference from "Million Dollar Man" Ted DiBiase.
At Survivor Series in 1990, while still Intercontinental champion, he wrestled in a Survivor Series match where he teamed with the WWF Champion The Ultimate Warrior and the Legion of Doom (Hawk and Animal). He was eliminated by long-time rival Mr. Perfect but his team won the match.
At the Royal Rumble in 1991, he participated in the Royal Rumble match where he entered fifth and was eliminated by The Undertaker after lasting nearly half an hour. He made his WrestleMania debut at WrestleMania VII, defeating Dino Bravo following a Tornado Punch. At SummerSlam, he teamed with the British Bulldog and Ricky Steamboat in a six-man tag team match to defeat the team of The Warlord and Power and Glory (Paul Roma and Hercules).
At Survivor Series, he teamed with Sgt. Slaughter, Jim Duggan, and Tito Santana against Colonel Mustafa, The Berzerker, Skinner, and Hercules. He did not eliminate anyone, but his entire team survived. He made his last pay-per-view (PPV) appearance at the Royal Rumble in 1992; he participated in the Royal Rumble match for the vacant WWF World Title. He was eliminated by the eventual winner Ric Flair. Kerry's push eventually ended as he was relegated to jobber to the stars status. He left the WWF in July 1992.
He died on February 18, 1993.
Ad blocker interference detected!
Wikia is a free-to-use site that makes money from advertising. We have a modified experience for viewers using ad blockers

Wikia is not accessible if you've made further modifications. Remove the custom ad blocker rule(s) and the page will load as expected.