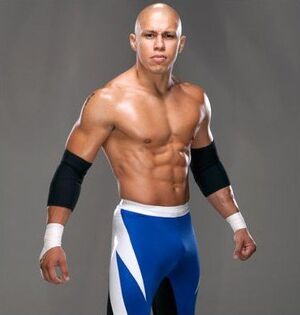 It was announced on June 1, 2010 that Kaval would be a participant in the WWE NXT Season 2 of NXT, with Team Lay-Cool (Michelle McCool and Layla) as his storyline mentors. He debuted on the June 8 episode of NXT, but did not compete in a match. On the June 15 episode of NXT, he was defeated by Alex Riley in his debut, and the following week he was defeated by Eli Cottonwood. On the June 29 episode of NXT, Kaval teamed with Michael McGillicutty and Lucky Cannon against Riley, Cottonwood and Titus O'Neil, which his team won when he pinned Riley, giving Kaval his first win on NXT. Later that night, he was ranked first in the poll. Four weeks later on July 27, he slipped down to second place in the second poll, behind McGillicutty. On August 9 the rookies appeared in a six-man tag team match on Raw, which Kaval's team lost when he was pinned by Husky Harris. Following the match, he was attacked by Sheamus. The following night on NXT, Kaval's team won a rematch when Kaval pinned McGillicutty. In the poll later that night, Kaval regained the number one ranking. On August 31, Kaval won the second season of NXT, with McGillicutty ranked second and Riley in third place. Following the announcement of his victory, he was attacked by all the former season two rookies.
Following his NXT victory, Kaval was moved to the SmackDown brand, making his debut during the September 7 tapings in a loss to Drew McIntyre, which aired on September 10. On the October 15 edition of SmackDown Kaval lasted five minutes in the ring with Big Show and in doing so earned a spot on Team SmackDown at Bragging Rights. However, after the match, Kaval was challenged by Tyler Reks, who ultimately went on to defeat him for his spot at the pay–per–view.
Kaval won his first match on the November 19 episode of SmackDown, by defeating the WWE Intercontinental Champion Dolph Ziggler in a non-title match. Following his victory, Kaval announced that he would be using his guaranteed title opportunity that he earned by winning NXT at the Survivor Series pay per view against Ziggler for the Intercontinental Championship. At the pay–per–view Kaval was unsuccessful in his attempt to win the Intercontinental Championship.
Kaval would also tag-team with Montel Vontavious Porter (who had similarly failed to unseat Ziggler on November 12) in MVP's final match with the WWE on December 3, where the pair of former contenders lost to the tag team of Ziggler and Drew McIntyre. Kaval's own final appearance in WWE was a loss to McIntyre on the live December 21 episode of SmackDown, as he was released of his contract soon after.
Ad blocker interference detected!
Wikia is a free-to-use site that makes money from advertising. We have a modified experience for viewers using ad blockers

Wikia is not accessible if you've made further modifications. Remove the custom ad blocker rule(s) and the page will load as expected.