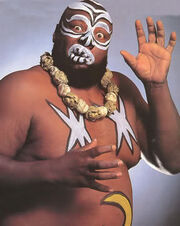 Kamala had several runs in the World Wrestling Federation in the 1980s and 1990s. His first began in 1984. As a heel, flanked by Skandor Akbar and "Classy" Freddie Blassie, he competed in a series of matches against André the Giant, including a high-profile steel cage match, which he lost after André twice sat on his chest. Kamala also appeared, along with Blassie, in a segment of the WWF's Tuesday Night Titans, where he (in kayfabe) ate a live chicken on the air.
Kamala briefly left the WWF, returning in 1986 with a masked "handler" named Kim Chee (who was usually portrayed by Steve Lombardi), and managed by The Wizard. In this run, Kamala battled Hulk Hogan and Jake "the Snake" Roberts, the latter feud beginning after Roberts exposed Kamala's fear of snakes. He formed a short-lived tag team with Wild Samoan Sika, before leaving the WWF in late 1987.
Kamala returned to the WWF in 1992, along with Kim Chee, and managed by Harvey Wippleman. After losing to The Undertaker in the first televised Coffin match at the 1992 Survivor Series, Kamala turned face, abandoning Wippleman to take the newly-ordained Reverend Slick as his manager. Slick set out to "humanize" Kamala, by such means as teaching him to bowl. He then left the WWF again in 1993. He was advertised to return in the 1994 Royal Rumble match, but was replaced by Virgil.
Kamala participated in "The Gimmick Battle Royal" at WrestleMania X-Seven and was eliminated by Sgt. Slaughter. On July 26, 2004, he made a surprise return to World Wrestling Entertainment, participating in a Raw Diva Search segment on RAW, in which the female contestants were instructed to try to seduce him. Kamala faced Randy Orton on the August 11, 2005 edition of SmackDown! (accompanied by Kim Chee) but the match was interrupted by a message from The Undertaker to Orton, and ended in a No Contest. Kamala appeared at the 2005 Taboo Tuesday event, as one of the choices for Eugene's tag team partner. He lost the fan vote to Jimmy Snuka, but came to the ring after the match to deliver a big splash to Tyson Tomko. On June 25, 2006, at Vengeance, he accompanied Eugene to the ring (along with Doink the Clown and Hacksaw Jim Duggan) to take on Umaga. Umaga quickly won the match, after which he attacked Eugene, Doink, and Duggan. Before Kamala and Umaga could fight, Umaga's manager, Armando Estrada, intervened. Kamala faced Umaga the following night on Raw and lost the match.
Ad blocker interference detected!
Wikia is a free-to-use site that makes money from advertising. We have a modified experience for viewers using ad blockers

Wikia is not accessible if you've made further modifications. Remove the custom ad blocker rule(s) and the page will load as expected.