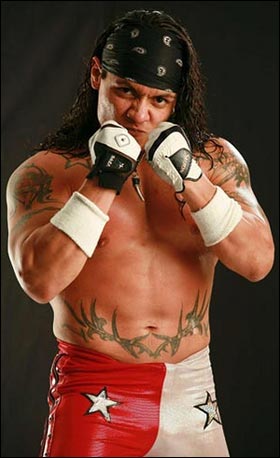 In the spring of 2005, Juventud had signed a contract with World Wrestling Entertainment (WWE). He debuted on television on June 18, 2005, defeating Funaki on SmackDown!'s sister show Velocity. On June 23, he, Super Crazy and Psicosis (collectively called "The Mexicools") interrupted a match between Chavo Guerrero and Paul London by riding to the ring on a lawn mower and attacking both wrestlers.
This was followed week by week of The Mexicools interrupting matches and beating down seemingly random wrestlers and cutting promos. Juventud quickly established himself as the mouthpiece/leader of the group and began calling himself "The Juice".
At the Great American Bash on July 24, The Mexicools defeated the newly reunited Blue World Order (Big Stevie Cool, The Blue Meanie, and Hollywood Nova) in a six-man tag team match.
After more weeks of interruptions and sneak attacks, The Mexicools were sent down to Velocity. The group feuded with Velocity main-stay and then-Cruiserweight Champion Nunzio and his tag partner Vito. Each member of The Mexicools picked up numerous pinfall victories over the champion during this time.
At the October 4 SmackDown! tapings for Velocity, Juventud (along with Super Crazy and Psicosis) faced Brian Kendrick, Paul London, Scotty 2 Hotty and Funaki in an over-the-top battle royal with the stipulation that the winner would receive a title shot at the Cruiserweight Championship at No Mercy. After finally eliminating London, Juventud won the battle royal and the title shot. At the event on October 9, he defeated Nunzio following a Juvi Driver to capture the Cruiserweight Championship, his first title in WWE.
Juventud later went on to lose the title back to Nunzio at a live event in Italy. On November 25 however, Juventud regained the title on an edition of SmackDown! from England. Guerrera soon lost the title to Kid Kash at Armageddon on December 18, 2005.
On January 6, 2006, WWE announced that Juventud had been released from the company. His final match aired that evening on SmackDown!, a Cruiserweight Title rematch against Kash which Juventud lost.
Ad blocker interference detected!
Wikia is a free-to-use site that makes money from advertising. We have a modified experience for viewers using ad blockers

Wikia is not accessible if you've made further modifications. Remove the custom ad blocker rule(s) and the page will load as expected.