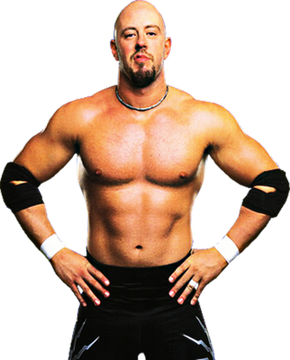 After having wrestled in the World Wrestling Federation as a jobber under the name P.J. Walker throughout 1993 and 1994 (scoring also a victory against Irwin R. Schyster), he was hired full time by WWF agent Pat Patterson in late 1994. His Portuguese ethnicity inspired the WWF to give him first the character of Aldo Montoya, the "Portuguese Man O' War". Justin befriended The Kliq, an influential group of upper card wrestlers, after Scott Hall offered to mentor him. He had feuds with Jeff Jarrett and Ted DiBiase, but asked for his release in 1997 when he was only being booked twice a month
Justin returned to the WWF in February 2001, immediately forming an alliance with X-Pac and assisting him in his pursuit of the Intercontinental Championship. The duo eventually formed a stable with Albert known as X-Factor. X-Pac and Credible tried several times to win the Tag Team Championship, but were unsuccessful. The team split when Credible aligned himself with Paul Heyman's band of ECW insurgents and helped form The Alliance with other invaders. Credible remained on the Company's "B" shows, forming a team with Raven, until Team Alliance lost at Survivor Series; he was fired along with the rest of the Alliance roster (in kayfabe) by Vince McMahon until Ric Flair was able to save his job and get him drafted over to the Raw brand.
On the Raw brand, Credible wrestled mostly on Sunday Night Heat and lost many singles matches he was in, but managed to become an eight-time Hardcore Champion. His last match on Raw was a squash match in which he was defeated by Batista. Credible was released in January 2003, with his final televised WWE appearance being a loss to Test on the December 8, 2002 episode of Heat.
Credible was rehired by WWE in June 2006. He returned to WWE television at the June 7 WWE vs. ECW Head to Head event as a member of the ECW on Sci Fi brand of WWE, taking part in a 20 man battle royal. He made several appearances on ECW on Sci Fi before being released from his WWE contract on September 28, 2006. During this brief run he won two matches, both by disqualification. He also wrestled CM Punk in Punk's debut match for WWE in 2006.
Ad blocker interference detected!
Wikia is a free-to-use site that makes money from advertising. We have a modified experience for viewers using ad blockers

Wikia is not accessible if you've made further modifications. Remove the custom ad blocker rule(s) and the page will load as expected.