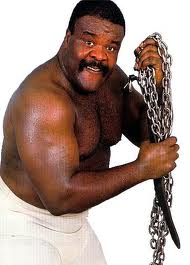 While in the WWF, JYD made a habit of interacting with the growing number of young people in attendance, often bringing them into the ring after matches and dancing with them. The Dog won The Wrestling Classic tournament, often cited as the first-ever WWF pay-per-view and his most notable feuds in the company came against King Harley Race, the Funk Brothers, Adrian Adonis, Greg "The Hammer" Valentine and "Outlaw" Ron Bass before he left the company late in 1988.
JYD died on June 2, 1998.
His daughter, LaToya Ritter and his sister Christine Woodburn, represented JYD as he was inducted into the WWE Hall of Fame at a ceremony held on March 13, 2004 by Ernie Ladd, the day before WrestleMania XX.
Ad blocker interference detected!
Wikia is a free-to-use site that makes money from advertising. We have a modified experience for viewers using ad blockers

Wikia is not accessible if you've made further modifications. Remove the custom ad blocker rule(s) and the page will load as expected.