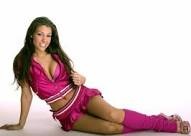 Giovanni participated in World Wrestling Entertainment's 2004 Diva Search and although she finished in third place in the competition, WWE signed her to a contract just a few days after her elimination. Joy debuted on SmackDown! as a massage therapist, and Joy Giovanni acted as special guest bell ringer. During this time, she would be confronted by Luther Reigns, who tried to force Joy to go on a date with him, causing Big Show to come down and make the save. Soon after Joy began a feud with Amy Weber. The two became involved in Big Show's feud with John "Bradshaw" Layfield, with Giovanni serving as a friend of Big Show. The feud included a part where Joy was kidnapped and discovered, bound and gagged in JBL's limo trunk. After Weber's departure from WWE, their feud was dropped and Joy would go on to win the 2005 Rookie Diva of the Year contest at No Way Out after beating out Michelle McCool, Rochelle Loewen, and Lauren Jones. After winning the contest, she and her fellow SmackDown! Divas would become involved in brief feuds with Dawn Marie and Melina. Following these feuds, she occasionally appeared on SmackDown! during backstage segments with other Divas or occasional bikini and lingerie contests and even took part in a promo videos for Wrestlemania 21. She was released from her contract in the summer of 2005.
Giovanni returned at WWE's WrestleMania XXV in a 25-Divas Battle Royal to determine the first Miss WrestleMania alongside various other past WWE Divas but was eliminated second.
Ad blocker interference detected!
Wikia is a free-to-use site that makes money from advertising. We have a modified experience for viewers using ad blockers

Wikia is not accessible if you've made further modifications. Remove the custom ad blocker rule(s) and the page will load as expected.