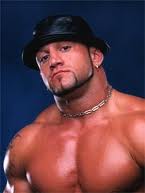 Johnny the Bull wrestled one dark match before the July 12, 2001 edition of SmackDown!, losing to Rob Van Dam. Johnny the Bull was introduced to the promotion as a member of The Alliance but after a single appearance on WWF television, he disappeared.
After the company was renamed to World Wrestling Entertainment in May 2002, Stamboli returned to WWE television on the June 30, 2002 episode of Sunday Night Heat under the ring name Johnny "The Bull" Stamboli, losing via disqualification to Tommy Dreamer. On the July 15 episode of Raw, Stamboli won the Hardcore Championship, his first title in WWE, from Bradshaw. Bradshaw would, however, regain the title from Hugger later that night. On the July 29 edition of Raw, Stamboli won the Hardcore Title once again after pinning Jeff Hardy, but lost the title a few seconds later to Tommy Dreamer. He became a mainstay on Heat and would later turn face due to fan reaction, in late September, 2002.
On February 13, 2003, Stamboli jumped to the SmackDown! brand and became a heel again when he, Nunzio and Chuck Palumbo attacked Rikishi. Together they formed an Italian American-themed stable with then-heel, called the Full Blooded Italians. The faction wrestled on throughout 2003 and early 2004, disbanding on March 22, 2004 when Palumbo was transferred to the Raw brand. Stamboli and Nunzio continued to team together until Stamboli was released from his WWE contract on November 4, 2004.
Ad blocker interference detected!
Wikia is a free-to-use site that makes money from advertising. We have a modified experience for viewers using ad blockers

Wikia is not accessible if you've made further modifications. Remove the custom ad blocker rule(s) and the page will load as expected.