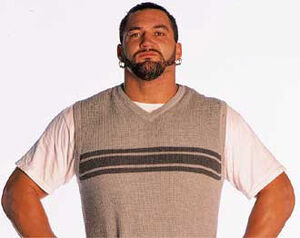 Abs made some appearances as enhancement talent using his real name on WWF Monday Night Raw in 1995.
In early 1999, he joined the WWF as Joey Abs. He was a part of the Mean Street Posse, a heel stable, with Pete Gas and Rodney, clad in sweater vests, loafers, and dress pants. They started off as a group from Greenwich, Connecticut of about ten people in early 1999, but then as the year went on the stable whittled its way down to three members. The group was closely allied with Shane McMahon, often helping him defend the WWE European Championship throughout early 1999. At WrestleMania 2000, each member won the WWF Hardcore Championship for a short while.
All three Posse members were released soon after.
Ad blocker interference detected!
Wikia is a free-to-use site that makes money from advertising. We have a modified experience for viewers using ad blockers

Wikia is not accessible if you've made further modifications. Remove the custom ad blocker rule(s) and the page will load as expected.