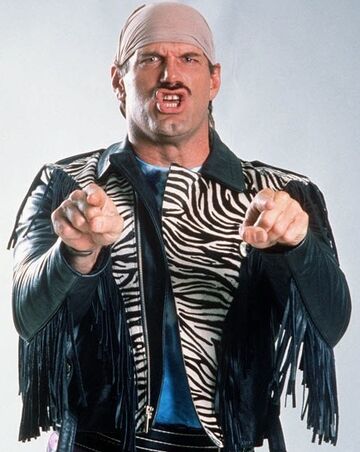 In 1980, Jesse Ventura (and Adrian Adonis) moved on to the World Wrestling Federation, where they were managed by "Classy" Freddie Blassie. Although the duo was unable to capture the World Tag Team Championship, both Adonis and Ventura became singles title contenders, each earning several title shots at World Heavyweight Champion Bob Backlund.
Ventura returned to the ring in 1985 forming a tag-team with "Macho Man" Randy Savage & Savage's manager Miss Elizabeth. Often after their televised matches Ventura would taunt and challenge fellow commentator Bruno Sammartino but nothing ever came of this. He also participated in a six-man tag team match in December 1985 as he, Roddy Piper, and "Cowboy" Bob Orton defeated Hillbilly Jim, Uncle Elmer, and Cousin Luke in a match which was broadcast on Saturday Night's Main Event. After a failed comeback bid, he began to do color commentary on television for All-Star Wrestling (replacing Angelo Mosca) and later Superstars of Wrestling (initially alongside Vince McMahon and Sammartino, and with McMahon after Sammartino's departure from the WWF in 1988), hosted his own talk segment on the WWF's Superstars of Wrestling called "The Body Shop". Ventura most notably co-hosted Saturday Night's Main Event with Vince McMahon and the first six WrestleManias (1985–1990) and most of the WWF's pay-per-views at the time with Gorilla Monsoon (the lone exception for Ventura being the first SummerSlam, in which Ventura served as the guest referee during the main event). Ventura was released in August 1990.
In mid-1999, Ventura reappeared on WWF television during his term as Governor of Minnesota, acting as the special guest referee for main event of SummerSlam held in Minneapolis. Ventura would continue his relationship with the WWF by performing commentary for Vince McMahon's short-lived XFL. On the March 20, 2003 episode of SmackDown!, Ventura appeared in a taped interview to talk about the match between McMahon and Hulk Hogan at WrestleMania XIX. Less than a year later, he would be inducted into the WWE Hall of Fame on March 13, 2004 and the following night at WrestleMania XX, he approached the ring to interview Donald Trump, who had a front row seat at the event. On the June 11, 2007 episode of Raw, Ventura appeared to give comments about Vince McMahon.
Ventura was guest host on the November 23, 2009 episode of Raw during which he retained his villainous persona by siding with the number one contender, Sheamus over WWE Champion John Cena. This happened while he confronted Cena about how it was unfair that Cena always got a title shot in the WWE while Ventura didn't during his WWE career. After that Sheamus attacked Cena and put him through a table. Ventura then made the match a Table match at TLC: Tables, Ladders & Chairs. During the show, for the first time in nearly 20 years, Vince McMahon joined Ventura at ringside to provide match commentary together.
Ad blocker interference detected!
Wikia is a free-to-use site that makes money from advertising. We have a modified experience for viewers using ad blockers

Wikia is not accessible if you've made further modifications. Remove the custom ad blocker rule(s) and the page will load as expected.