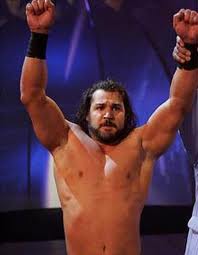 Scott made his WWE debut on the April 7, 2006 edition of SmackDown!. He was billed as Gunner Scott, getting no (on screen) entrance and was portrayed as a jobber until he suddenly defeated Booker T (due to the Boogeyman's music being played and distracting Booker T). Later during the show, Chris Benoit met him backstage and praised him on his winning debut, possibly setting the stage for Scott being groomed as Benoit's protégé.
On the May 19, 2006 edition of SmackDown! Gunner Scott would team up for the first time with his "mentor", Benoit, to take on Booker T and Finlay. Scott would win the match, pinning Booker T once again with another distraction in the form of Bobby Lashley. On the June 16 episode, Albright teamed up with Matt Hardy to take on Finlay and William Regal in a losing effort.
On June 28, 2006, Albright was sent back down to the minor leagues. His last appearance on SmackDown! was on the June 30 episode, against Mr. Kennedy in a losing effort. After the match he was placed in a body bag by The Great Khali, thus ending his tenure with WWE.
Ad blocker interference detected!
Wikia is a free-to-use site that makes money from advertising. We have a modified experience for viewers using ad blockers

Wikia is not accessible if you've made further modifications. Remove the custom ad blocker rule(s) and the page will load as expected.