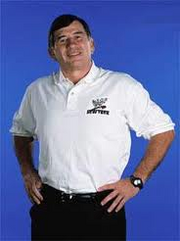 Gerald Brisco began working backstage as a road agent and booker for McMahons's World Wrestling Federation.
Following the 1997 Montreal Screwjob, Brisco capitalized on his notoriety by becoming an onscreen "stooge" of Vince McMahon along with Pat Patterson. The duo portrayed a pair of bumbling comic heels and joined The Corporation and the McMahon-Helmsley Faction. They lampooned Hulk Hogan by mimicking his trademark gestures and using "Real American," his old entrance theme.
On the May 18, 2000 episode of SmackDown! Brisco won his first WWF championship when he pinned a sleeping Crash Holly to win the perpetually contested Hardcore Championship. Crash regained the title on June 12 but Brisco was intent on regaining. He pursued Holly around New York City but ran afoul of John Shaft, who had agreed to protect Holly. Brisco eventually regained the title the following week with the aid of Pat Patterson in the midst of a match between Crash and his cousin, Hardcore Holly. As Patterson and Brisco celebrated the victory, Patterson poured champagne in Brisco's eyes then broke a second bottle over his head. He then pinned the (kayfabe) unconscious Brisco to win the Hardcore Championship. Patterson hid from Brisco in drag in the women's locker room, and, after Brisco pursued him into the locker room, Vince McMahon booked them in a Hardcore Evening Gown Match at the King of the Ring. In the course of the match, Holly interfered and pinned Patterson, regaining the title once again.
He appeared at WrestleMania 23 in a party scene and also on the July 23, 2007 edition of RAW. On March 29, 2008, Brisco and his brother were inducted into the WWE Hall of Fame the night before WrestleMania XXIV in Orlando, Florida.
In June, 2009, Brisco suffered three strokes. Four months later, it was announced that Brisco would not be returning to his position as a road agent in WWE. In March 2010, Brisco did return to the WWE as a talent scout.
According to Jim Ross, on October 19, 2011, Jerry Brisco suffered another stroke, although minor.
Ad blocker interference detected!
Wikia is a free-to-use site that makes money from advertising. We have a modified experience for viewers using ad blockers

Wikia is not accessible if you've made further modifications. Remove the custom ad blocker rule(s) and the page will load as expected.