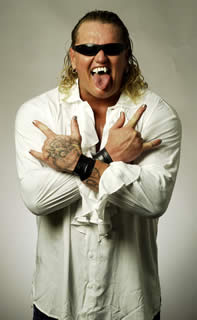 Gangrel made his TV debut on the August 16, 1998 episode of Sunday Night Heat, and was victorious in his in-ring debut against Scott Taylor. He would go on to be undefeated for several months into his WWF career.
He then formed a gothic faction, called The Brood, with Edge and Christian. The Brood became known for their "blood baths", which involved the lights going out for a moment, and when they came back on, the targeted wrestler being covered in blood. The three temporarily joined up with The Undertaker and his Ministry of Darkness faction.
Gangrel got one of his first title shots at the 1999 Royal Rumble. He challenged D-Generation X member X-Pac for his WWF European Championship in a losing effort. He competed in the Royal Rumble match later that night and again the following year.
After splitting from the Ministry, The Brood began a feud with the Hardy Boyz and their manager Michael Hayes. During the feud, Gangrel suddenly turned on Edge and Christian and aligned himself with Matt and Jeff Hardy. He called the group The New Brood. Terri Runnels also began to show interest in the Hardy Boyz, however, and they eventually would win Terri's services as their manager, thus dumping Gangrel as a manager. Gangrel became a singles wrestler following the breakup of The New Brood; he was mainly used as a mid carder. In 2000, he brought in his real-life wife Luna Vachon as his manager until she was fired. Gangrel continued working for the WWF until he was released in 2001, reportedly for weight problems.

He made a couple appearances for WWE in 2004, returning as a hired goon of John "Bradshaw" Layfield during a feud with The Undertaker (both Bradshaw and Gangrel were former Ministry members), but nothing came of it.
In 2005, he was rehired by WWE, but was released before he was put on television.
In 2006, Heath was re-signed as a potential for WWE's newest brand, ECW, to appear in a vampire stable with Kevin Thorn and Ariel. WWE held off from reintroducing him to the main roster due to his ongoing weight problems. On January 18, 2007, Gangrel was released from WWE.
On the 15th Anniversary WWE Raw special on December 10, 2007, Gangrel participated in a 15-man battle royal, but was eliminated by Al Snow.
Ad blocker interference detected!
Wikia is a free-to-use site that makes money from advertising. We have a modified experience for viewers using ad blockers

Wikia is not accessible if you've made further modifications. Remove the custom ad blocker rule(s) and the page will load as expected.