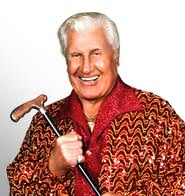 In 1964, Blassie feuded with Bruno Sammartino and Bobo Brazil. Blassie came in to the WWWF with his own world title belt, claiming to be the Pacific World Champion, and was coming to Sammartino's "back yard" to unify the world title. The series began at Roosevelt Stadium, Jersey City, NJ in 1964, with Blassie winning on a technicality, but not a pin. The rematches were held at Madison Square Garden in New York, with Sammartino winning out. Behind the scenes, Blassie befriended Gorilla Monsoon. He returned to the company in 1971 to challenge Pedro Morales for the WWWF Championship. During this stint with the company, Blassie was managed by his future nemesis, "Captain" Lou Albano.
Blassie retired from active wrestling in 1974. Afterwards he became a manager in the World Wide Wrestling Federation and its subsequent incarnation the World Wrestling Federation.
Among the men he managed were Nikolai Volkoff, Blackjack Mulligan, High Chief Peter Maivia, "The Crippler" Ray Stevens, Adrian Adonis, Jesse Ventura, Dick Murdoch, The Iron Sheik, Swede Hanson, Killer Khan, George 'The Animal' Steele, Professor Tanaka, Mr. Fuji, Victor Rivera and Hulk Hogan. Blassie also managed Muhammad Ali in his boxer vs. wrestler match in 1976 against Antonio Inoki.
He would sporadically return to make brief appearances following his retirement in 1986, mostly in produced video packages hyping the "new generation" of wrestling. He was inducted into the WWF Hall of Fame in 1994. His final wrestling appearance was May 12, 2003 in Philadelphia, PA on Monday Night Raw, three weeks before his death. The segment featured Blassie, his wife, Raw GM Eric Bischoff, who was about to allow 3 Minute Warning to attack him, until Stone Cold Steve Austin and the Dudley Boyz stepped in. His final words on WWE television were "D-Von, Get the tables", to a monsterous applause. On June 2, 2003, Blassie died of heart and kidney failure at the age of 85.
Ad blocker interference detected!
Wikia is a free-to-use site that makes money from advertising. We have a modified experience for viewers using ad blockers

Wikia is not accessible if you've made further modifications. Remove the custom ad blocker rule(s) and the page will load as expected.