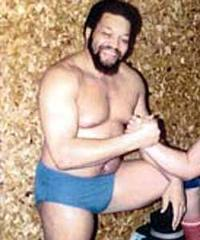 Ladd wrestled for a number of different wrestling associations, including the World Wide Wrestling Federation where he was managed by The Grand Wizard of Wrestling. Known for his immense size and power, it was a natural for Ladd to engage in feuds with other giants, including a famous feud with André the Giant (whom Ladd referred to as "Andre the Dummy" or "The Big Fat French Fry" during interviews).
Ladd challenged Bruno Sammartino one time at Madison Square Garden for the WWWF title when Bruno reigned, handily pinning Earl "Mr. Universe" Maynard the month prior. He also challenged Pedro Morales for the same title during the latter's reign. In 1978 he wrestled WWWF champion Bob Backlund.
Ladd retired from wrestling in 1986 due to recurring knee problems. He would occasionally do color commentary at certain WWF events, usually teamed with Gorilla Monsoon; although he wrestled most of his career as a villain, Ladd's WWF commentary favored the fan favorites. He was inducted into the WWF Hall of Fame in 1995.
He passed away on March 10, 2007.
Ad blocker interference detected!
Wikia is a free-to-use site that makes money from advertising. We have a modified experience for viewers using ad blockers

Wikia is not accessible if you've made further modifications. Remove the custom ad blocker rule(s) and the page will load as expected.