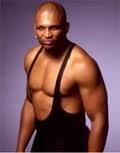 Ernest "The Cat" Miller made his dark match debut for
World Wrestling Entertainment
on October 28, 2002. He then served as an announcer for
Velocity
. After his run on
Velocity
, he became an active wrestler on the main roster, competiting for the
SmackDown
brand.
Miller appeared in the 2004 Royal Rumble match, making his entrance (along with manager Lamont) while the other two people in the ring, Chris Benoit and Randy Orton, were knocked down. Miller and Lamont proceeded to dance to his theme music, not bothering to capitalize on the advantage he'd been given. When Benoit and Orton got back up, both men quickly tossed him from the ring.
Miller then competed in a 15-man battle royal on SmackDown! to earn a shot at the WWE Championship against then Champion Brock Lesnar at No Way Out, but was once again thrown out during his theme song. Following this, he started a short-lived feud with Tajiri after Tajiri attacked Lamont with his trademark Buzzsaw Kick. After the feud ended, Miller was released from WWE on February 10, 2004.
Ad blocker interference detected!
Wikia is a free-to-use site that makes money from advertising. We have a modified experience for viewers using ad blockers

Wikia is not accessible if you've made further modifications. Remove the custom ad blocker rule(s) and the page will load as expected.