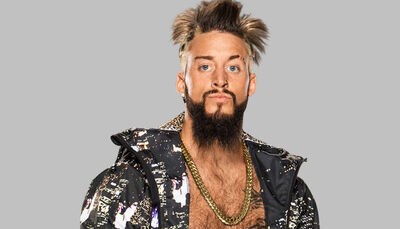 Amore made his NXT television debut on 22 May 2013, where he was quickly defeated by Mason Ryan. Amore's NXT character was portrayed as a "stereotypical cocky, Jersey Shore loudmouth" and an "outsized version of the man playing the part". Amore went on to form an alliance with Colin Cassady, who had also previously lost to Ryan, and they labelled themselves 'the realest guys in the room'.
However, Ryan easily defeated them in consecutive singles matches, but lost to them in a handicap match. After the feud with Ryan, Amore and Cassady went on to feud with Alexander Rusev, Sylvester Lefort and Scott Dawson. In November 2013, Amore suffered a broken leg while training.
Amore returned on the June 24, 2014 episode of NXT where he saved Cassady from an attack from Sylvester Lefort and Marcus Louis. In early August, Amore and Cassady participated in the NXT Tag Team Championship tournament, where they defeated Tye Dillinger and Jason Jordan in the first round but lost to The Vaudevillains (Aiden English and Simon Gotch) in the second round. Lefort and Louis then renewed their rivalry with Amore and Cassady by attacking them and shaving Amore's beard. As a result, Amore challenged Lefort to a match with the loser's hair as forfeit at NXT Takeover: Fatal 4-Way. Amore proceeded to win the match but Lefort ran away, leaving his partner, Louis, to lose his hair and eyebrows at the hands of Amore and Cassady.
Amore and Cassady proceeded to form an alliance with the debuting Carmella. The duo had accidentally cost Carmella her hairdressing job as per the storyline, causing her to demand to get a job as a wrestler. Carmella had her televised in-ring debut on the October 16, 2014 episode of NXT.
In March 2015, Amore and Cassady began a rivalry with NXT Tag Team Champions Blake and Murphy, with the champions insulting Amore and Cassady while attempting to woo Carmella. On the March 11 episode of NXT, Amore and Cassady defeated The Lucha Dragons in a number one contender's match for a title opportunity against Blake and Murphy. Amore and Cassady received their title match at TakeOver: Unstoppable, which they would lose after Alexa Bliss interfered. At NXT TakeOver: London, Enzo and Cass challenged Dash Wilder and Scott Dawson for the NXT Tag Team Championship in a losing effort. Enzo and Cass again challenged Wilder and Dawson for the titles at WWE Roadblock in March 2016, but were again unsuccessful.
On the April 4, 2016 episode of Raw (which took place the night after WrestleMania 32), Amore and Cassady made their main roster debuts and confronted The Dudley Boyz. On the April 14 SmackDown, they made their main roster in-ring debuts, defeating The Ascension in the first round of the WWE Tag Team Championship Number One Contender's Tournament and defeated the Dudley Boyz to advance to the finals at Payback against the Vaudevillains. At Payback, Amore suffered an injury when his head struck the second ring rope, snapping his neck backwards. Amore was not moving, resulting in the match being stopped and him heading to the hospital. During the event, it was announced that Amore had suffered a concussion and no other injuries were diagnosed. He was released from the hospital later that evening. He made his return on the May 23 episode of Raw accompanying Big Cass to the ring for his match against Bubba Ray Dudley of the Dudley Boyz. On SmackDown Live on July 19, Enzo Amore and his tag team partner Big Cass were chosen by the General Manager of Monday Night Raw Mick Foley and Raw commissioner Stephanie McMahon. Amore and Cass were drafted in round 4. Following the draft, Enzo and Cass started a rivalry with Chris Jericho and his new partner, Kevin Owens. On the August 8th edition of Monday Night Raw, Cass challenged Jericho and Owens to a match at Summerslam, which was accepted. At the event, Enzo and Cass lost to Owens and Jericho.
On the November 7 episode of Raw, Enzo and Cass were announced as part of Team Raw for the 10–on–10 Survivor Series Tag Team Elimination match at Survivor Series on November 20, 2016, where their team would win. On the November 21, 2016 edition of Raw Enzo Amore walked around the hallway naked after losing his clothes and ran into Lana, which her husband Rusev saw. This led to a match which Enzo quickly lost. The following week on Raw, Enzo got a rematch against Rusev and won by disqualification after Rusev gave him a low blow. The following week on Raw, Amore would defeat Rusev in a rematch by disqualification. On the December 5 episode of Raw, after Amore would stand up for Lana after seeing her and Rusev argue backstage, Lana would invite Amore to her hotel room after telling him that she feels Rusev is only taking her for granted. Later that night, when Rusev was set to face Big Cass in a match, he would instead attack Amore in his hotel room in what was revealed as a set up.
Ad blocker interference detected!
Wikia is a free-to-use site that makes money from advertising. We have a modified experience for viewers using ad blockers

Wikia is not accessible if you've made further modifications. Remove the custom ad blocker rule(s) and the page will load as expected.