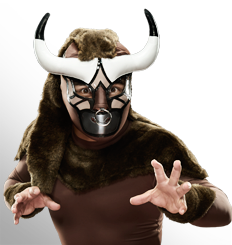 Debut; Impersonations (1997-1998)
Edit
El Torito came to the WWF in 1997 and was given the ring name "Mini Vader", a miniature version of WWF wrestler Vader as he bore a striking resemblance both physically and facially. Mini Vader made a couple of appearances in early 1997, at times teaming with "Mini Mankind". He would then work a series of matches against Mascarita Sagrada, repackaged as "Mini Nova" and Max Mini. Torito even made a pay-per-view appearance for the WWF, teaming with Battalion and Tarantula in a losing effort against Mini Nova, Max Mini and Mosaic at the 1998 Royal Rumble.
Return; Los Matadores (2013-2015)
Edit
On the September 30, 2013 Raw, Torito returned to manage the new team of Los Matadores.
On January 26, 2014 El Torito participated in his first Royal Rumble match entering at #20 and eliminating Fandango, but was eliminated by Roman Reigns. He got the win for his team in a ten man tag match on Main Event in February after pinning Heath Slater. He would then enter an ongoing feud with Hornswoggle, who is another midget wrestler in the the WWE, of Heath Slater's 3MB. They fought at Extreme Rules, where El Torito defeated Hornswoggle in a WeeLC match. They had a rematch at the Payback pre-show in a Mask vs. Hair match, in which Torito won again and proceeded to shave Hornswoggle bald post match. After this, Fernando would get injured at a live show. Despite this, El Torito and Diego would start a feud with Bo Dallas, losing in singles and handicap matches. Torito also briefly paired up with Hornswoogle in a brief face turn (dressed as a cow) but then the latter continued on as a heel.