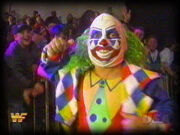 Dink, as Tiger Jackson, made appearances in the
World Wrestling Federation
from 1982, often teaming with his brother,
Little Beaver
.
In late 1992, Jackson signed on with the WWF and started to team up with The Bushwhackers in their feud against The Beverly Brothers. The Beverly Brothers recruited "Little Louie" to even the sides but to little success falling to the combination of the Bushwhackers and Tiger Jackson time and again including a prime time loss on the "Road to WrestleMania IX" Special shown on March 28.
Jackson's first "imitation" gimmick came as a direct result of the antics of the heel Doink the Clown, who had a second Doink come out to interfere in the match. During a match between Doink and Randy Savage on Monday Night Raw, Jackson climbed out from under the ring dressed like a miniature version of Randy Savage (instantly dubbed the Macho Midget). The sight of the Macho Midget distracted Doink long enough to be rolled up for a loss after Doink's own tactics were turned on him. After his debut, Jackson helped Randy Savage out a few times but also went back to teaming with the Bushwhackers, this time working as "The Macho Midget."
Jackson's most known "imitator" role was as "Dink the Clown," the slapstick partner of Doink The Clown. Dink was introduced as a present to Doink the Clown by Santa Claus himself on an edition of WWF Superstars of Wrestling that aired on November 27, 1993. From then on, Dink accompanied Doink to ringside and took part in the clown antics played on opponents. While acting as a manager, Dink also wrestled twice on pay-per-view. Dink's first PPV appearance was on March 20, 1994 at WrestleMania X, teaming with Doink to face Bam Bam Bigelow and Luna Vachon in a losing effort. Dink's second PPV appearance came at the 1994 Survivor Series where he was joined by fellow "Mini Clowns" Pink and Wink to make up the team Clowns'R'Us to face Jerry Lawler and his three "Mini Kings" – Sleazy, Cheesy and Queasy. After losing the match, all six midgets attacked Jerry Lawler and chased him from the ring. When Doink left the WWF, Dink followed suit.
Ad blocker interference detected!
Wikia is a free-to-use site that makes money from advertising. We have a modified experience for viewers using ad blockers

Wikia is not accessible if you've made further modifications. Remove the custom ad blocker rule(s) and the page will load as expected.