Dean Ambrose
Talk

0
1,886pages on
this wiki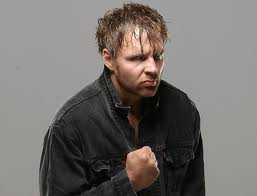 On January 20, 2006, Ambrose teamed with Brad Attitude in a tag team match against MNM in a losing effort. This match was taped for WWE Velocity.
Dean appeared at house shows on December 16 and 17, 2011, losing to Daniel Bryan. On December 19, he lost to Ted DiBiase in a dark match prior to Raw. On March 4, 2012, Ambrose beat Drew McIntyre at a house show in Albany, Georgia, marking his first win in front of a main WWE crowd.
Ambrose made his main roster debut on November 18, 2012 at the Survivor Series pay-per-view alongside Roman Reigns and Seth Rollins, where they assaulted Ryback during the triple-threat main event for the WWE Championship, leading to CM Punk pinning John Cena to retain his title.
The trio declared themselves "The Shield" and vowed to rally against "injustice" while denying that they were working for Punk, but would routinely emerge from the crowd to attack Punk's adversaries such as Ryback, The Miz, Kane and Daniel Bryan, who had attempted to save Kane. This led to a Tables, Ladders, and Chairs match being set up for the TLC pay-per-view pitting the three men of the Shield against Ryback and Team Hell No (Kane and Bryan), which Ambrose, Reigns and Rollins won in their debut match. The Shield continued to aid Punk after TLC; during Punk and Ryback's TLC match for the WWE Championship on the January 7 episode of Raw, they attacked Ryback, which resulted in Punk retaining his title. During the Royal Rumble event where the Rock challenged for Punk's WWE Championship, match, a blackout occurred and the Rock was attacked in the darkness by unknown assailants, directly leading to Punk pinning Rock; the announcers blamed the Shield for the attack. The match was later restarted with Rock winning. The next day on Raw, the Shield attacked and laid out John Cena; Sheamus and Ryback suffered the same fate when they attempted to save Cena. Later in the show, it was revealed through footage played by Vince McMahon that Punk and/or his manager Paul Heyman had been paying the Shield and Brad Maddox to work for them all along. This set up a six-man tag team match at Elimination Chamber, which the Shield won. At WrestleMania 29, The Shield beat Randy Orton, Sheamus, and Big Show in a six-man tag-team match when Ambrose pinned Orton. On the April 22nd edition of Raw, the Shield defeated Team Hell No and The Undertaker in a six-man tag-team match. Ambrose wrestled his first singles match in the WWE on the April 26 edition of SmackDown, losing via submission to The Undertaker. However, immediately after the match Ambrose and the rest of the Shield would viciously attack Undertaker, beating him down with chairs and putting him through the announcers' table. On the April 29 episode of RAW, The Shield defeated Kane, Daniel Bryan and John Cena in a six-man tag team match. On the May 3 episode of SmackDown, Ambrose defeated Kane with a headlock driver.
On May 13 in an episode of RAW, The Shield suffered their first loss in a Six-Man Elimination Tag Team Match by disqualification when Rollins and Reigns (who were already eliminated) attacked John Cena while he was performing an STF submission hold on Dean Ambrose. On May 19 at Extreme Rules, Ambrose defeated Kofi Kingston to win the United States Championship, his first singles title in WWE. Later on that night, Rollins and Reigns defeated Team Hell No in a tag team tornado match to capture the WWE Tag Team Championships, thus giving all three members of The Shield championship gold. Ambrose made his first televised title defense on the following episode of SmackDown, losing to Kingston via disqualification after Reigns and Rollins interfered, but retaining the title as a result. The Shield would continue their assault on Kingston until Randy Orton and Sheamus made the save. Theodore Long then came out to set up a six-man tag team match that ended with Ambrose pinning Kingston for the win. Three days later on Raw, Ambrose defeated Kingston again to retain his title. At WWE Payback, Ambrose scored a countout victory over Kane to retain the United States Championship. On June 17, edition of RAW, he received a disqualification loss against Kane after Roman Reigns and Seth Rollins attacked Kane during the rematch for United States Championship. At Money in the Bank ppv Ambrose competed in the World Heavyweight Championship Money in the Bank ladder match, which he almost won with the help of Rollins and Reigns however he was unsuccessful in winning losing to Damien Sandow. Ambrose retained his United States Championship at Summerslam by disqualification when The Shield speared Rob Van Dam. Afterwards, Ambrose would begin a feud with Dolph Ziggler when Ziggler disagreed with Triple H's management of WWE. On September 15 during Night of Champions pay-per-view Ambrose successfully defended his title by defeating Ziggler. The following night on Raw, Ambrose would lose to Ziggler in a non-title match, which lead to another title defense later in the week on SmackDown, but Ambrose retained the championship when Reigns and Rollins interfered. On the October 16 Episode of Main Event, Ambrose defeated Ziggler to retain his United States title. Later that month, on October 27, at the WWE Hell in a Cell pay-per-view, in a title match, Ambrose was defeated by Big E Langston by count-out, therefore retaining his United States Championship. On December 15th at the TLC, the Shield would lose to Punk in a 3-on-1 Handicap match. Ambrose was accidentally speared by Roman Reigns allowing Punk to win the match.
On the 10 February 2014 episode of Raw, Ambrose's open challenge for his title was answered by Mark Henry, in which Ambrose only retained his title upon disqualification due to the Shield's interference; Reigns followed up by defeating Henry without interference on the next Raw. At the Elimination Chamber pay-per-view, the Shield lost to the Wyatt Family; during the match, Ambrose and Bray Wyatt brawled into the crowd, but Wyatt returned to the ring with no sign of Ambrose, which caused Rollins and Reigns to be outnumbered and overwhelmed.