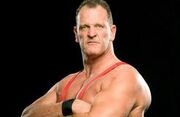 On 20 October 2006 episode of SmackDown!, William Regal announced that Taylor would be joining him on the brand. The two debuted the same night, and scored a dominating victory over Scotty 2 Hotty and Funaki. Though the pair reformed their previous tag team, Regal and Taylor would not reuse the Blue Bloods gimmick, instead portraying themselves as sadistic fighters. The team was quickly put into jeopardy in their second match together when Taylor suffered a torn meniscus in his left knee. Taylor took a more relaxed role for a couple of weeks as a corner man for Regal and only wrestled a few short house show matches. Taylor would quickly heal from his injury and the pair went on to feud with Paul London and Brian Kendrick in the hunt for the WWE Tag Team Championship. After defeating London and Kendrick on several occasions, they earned a Tag Team Championship match at Armageddon in December. The match was changed into a fatal four way ladder match also involving MNM and The Hardys, and London and Kendrick retained their titles. In a subsequent regular tag rematch on SmackDown! Regal and Taylor came up short of winning the titles.
After WrestleMania 23, Regal and Taylor began a feud with Kane when after a match between Kane and Taylor, Taylor and Regal attacked Kane. The Boogeyman soon joined the feud as Kane's tag team partner, but the feud ended after Kane defeated Regal in a singles match. On the 25 May edition of SmackDown!, Regal and Taylor competed in a number one contenders match for the WWE Tag Team Championship against Kendrick and London which they lost when Deuce 'n Domino interfered, making both teams the number one contenders. This led to a triple threat match the next week on SmackDown!, where Deuce 'n Domino retained. Taylor and Regal's tag team would come to an end on 17 June when Regal was drafted to Raw during the Supplemental Draft.
Following Regal's departure, Taylor was absent from SmackDown! for several weeks and began teaming with Paul Burchill at house shows and dark matches. Since then, Taylor had only competed on SmackDown! sparingly, competing in a 20-Man Battle Royal for the then-vacant World Heavyweight Championship and losing a match to former rival Kane. Taylor brought Drew McIntyre to SmackDown! in October 2007 and acted as his mentor, but McIntyre would only make a few appearances before moving to the Raw brand in January 2008. Following McIntyre's move, Taylor went on a leave of absence from WWE television. He was released by WWE on 28 April 2008.&nbsp
Ad blocker interference detected!
Wikia is a free-to-use site that makes money from advertising. We have a modified experience for viewers using ad blockers

Wikia is not accessible if you've made further modifications. Remove the custom ad blocker rule(s) and the page will load as expected.