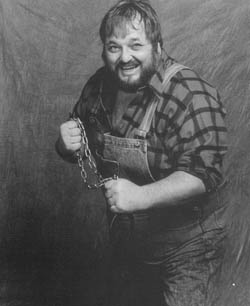 Cousin Luke debuted as a member of the Hillbilly Family led by Hillbilly Jim. As part of this gimmick, Luke was silent and expressionless and portrayed a rural Southerner who did not know how to wrestle. He joined the other hillbillies in their feud with Roddy Piper, Bob Orton, Jr., and Jesse Ventura. Shortly after joining the company, however, Luke broke his ankle due to a problem with a defective wrestling ring. He was asked to compete at WrestleMania 2, the WWF's biggest show of the year, but had to decline due to the injury. He left later that year.
He died on September 29, 2013.
Ad blocker interference detected!
Wikia is a free-to-use site that makes money from advertising. We have a modified experience for viewers using ad blockers

Wikia is not accessible if you've made further modifications. Remove the custom ad blocker rule(s) and the page will load as expected.