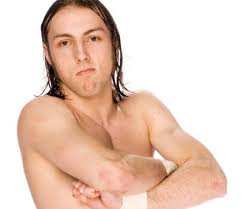 Delaney made his World Wrestling Entertainment (WWE) debut as a jobber, seen wrestling on the ECW show. He was first beaten by Shelton Benjamin on the December 18, 2007 episode of ECW, before getting squashed by Big Daddy V two weeks later. On the January 8, 2008 episode of ECW, Delaney was beaten again, this time by Mark Henry from the SmackDown! brand . Delaney would also be squashed by Kane and The Great Khali. On the January 29, 2008 episode of ECW, WWE Tag Team Champions Miz and John Morrison defeated Delaney in a Handicap match. After the match, The Miz and Morrison continued to attack Delaney, but he was saved after Tommy Dreamer came to the ring.
Delaney picked up his first win in WWE on the February 26, 2008 episode of ECW, defeating The Miz and John Morrison in a tag team match with Tommy Dreamer. On March 11, he and Dreamer challenged The Miz and Morrison for the WWE Tag Team Championships in an Extreme Rules match, but came up short after having lost a subsequent title match the week before. In subsequent weeks, ECW General Manager Armando Estrada informed Colin that he would have to acquire his first singles victory to win an "official" ECW contract. Delaney unsuccessfully faced a number of superstars, including his own mentor Dreamer, whom Estrada threatened to fire if he lost the match. Finally, on the May 6, 2008 episode of ECW, Delaney defeated Estrada himself via a sunset flip to win his storyline contract, which he had legitimately signed in February. He lost his "first match as an ECW superstar" against Mike Knox and then was beaten by Estrada when he signed himself to the ECW roster. Estrada was defeated by Delaney after already being defeated by Matt Hardy moments earlier, thus removing Estrada from the roster, per the orders of new ECW General Manager Theodore Long. On July 20, 2008, at The Great American Bash, Delaney turned heel by costing Tommy Dreamer his ECW Championship match against Mark Henry. On July 29, however, on ECW, he lost to Matt Hardy, which caused Henry to turn on him. The next week on ECW, Delaney remained a heel and helped Estrada beat Dreamer to earn his ECW contract. This led to an Extreme Rules match against Dreamer, where he was easily defeated. On August 15, 2008, Delaney was released from his WWE contract due to budget cuts .&nbsp
Ad blocker interference detected!
Wikia is a free-to-use site that makes money from advertising. We have a modified experience for viewers using ad blockers

Wikia is not accessible if you've made further modifications. Remove the custom ad blocker rule(s) and the page will load as expected.