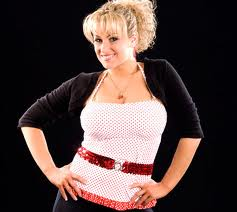 Cherry debuted on the January 19, 2007 episode, where she managed Deuce 'n Domino in a tag team match, which Deuce 'n Domino won. During this time that Cherry was rarely physically involved in their matches. On the April 20, episode of SmackDown!, Cherry was in the corner of Deuce 'n Domino when they won the WWE Tag Team Championship by defeating Paul London and Brian Kendrick.
On the October 12 episode of SmackDown!, in a backstage segment, Jamie Noble revealed to Deuce and Domino that he had heard Jimmy Wang Yang making suggestive comments about Cherry. Later that episode, Yang defeated Deuce in a singles match. After the match, however, Deuce 'n Domino double-teamed him, and Cherry slapped Yang. This later developed into a feud between Deuce and Domino, and Yang and his partner, Shannon Moore. At the beginning of 2008, the team suffered a series of losses.
On the March 7, 2008 episode of SmackDown, Cherry competed in a Swimsuit Contest, along with WWE Divas Maryse, Victoria, Eve Torres, and Michelle McCool. On the March 28 episode of SmackDown, Cherry transformed into a fan favorite by teaming with McCool to defeat Victoria and Maryse. She made her WWE singles match debut defeating Victoria with a roll-up, following a distraction from McCool, on the April 18 episode of SmackDown. On April 27, at the Backlash pay-per-view, Cherry made her pay-per-view debut in a 12-Diva tag team match, which her team lost.
In a video posted to WWE's official website, she was dumped by Deuce and Domino for Maryse when they announced that they wanted nothing more to do with her after her unannounced departure from them. Maryse proceeded to provoke Cherry after their announcement, only to get slapped for her troubles. She went on to pick up a singles victory over Maryse. Cherry then went on into a minor feud with Natalya, who debuted with a win over Cherry via the Sharpshooter, a submission move. Over the weeks to come, Natalya continued to defeat Cherry, including at Vickie Guerrero's wedding. As a condition of catching Guererro's bouquet, Cherry won a match against Guerrero, but first had to face Natalya, who defeated her with the Sharpshooter. Following this loss, Guererro immediately had a match with Cherry, quickly pinning her for the victory. Cherry was released from her WWE contract on August 15, 2008.
Ad blocker interference detected!
Wikia is a free-to-use site that makes money from advertising. We have a modified experience for viewers using ad blockers

Wikia is not accessible if you've made further modifications. Remove the custom ad blocker rule(s) and the page will load as expected.