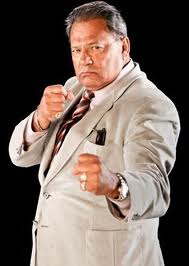 In 2004, Classic began working for World Wrestling Entertainment (WWE), joining his son Chavo, Jr. in a feud with the younger Chavo's uncle and the older Chavo's brother Eddie. While with WWE he became the oldest WWE Cruiserweight Champion in history, defeating Chavo, Jr. and Spike Dudley in a triple threat match. He eventually lost the title to Rey Mysterio less than a month later. On June 15, 2004, he was fired by WWE for no-showing a SmackDown! house show two days earlier.
On the November 15, 2010 "Old School" episode of Raw, Chavo returned, driving Alberto Del Rio to the arena.
Ad blocker interference detected!
Wikia is a free-to-use site that makes money from advertising. We have a modified experience for viewers using ad blockers

Wikia is not accessible if you've made further modifications. Remove the custom ad blocker rule(s) and the page will load as expected.