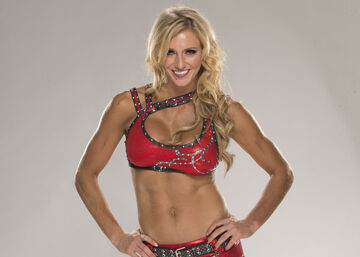 Charlotte made her arena in-ring debut on the January 31, 2013 episode of NXT, where she was defeated by Natalya in a dark match. Charlotte made her televised in-ring debut on the July 17 episode of NXT, where she was accompanied by her father to the ring in a winning effort defeating Bayley. On the July 31, 2013 edition of NXT, Charlotte defeated Sasha Banks. In late 2013, she formed a tag team with Bayley, and they defeated Aksana and Alicia Fox on the September 4 episode of NXT. On the October 10 episode of NXT Bayley accompanied Charlotte to a match againist Santana Garrett, which she won. During the match the "BFFs (Beautiful, Fierce Females)" (Summer Rae and Sasha Banks) came down to the ring & were cheering on Charlotte. On the November 13 episode of NXT, during a match against the "BFFs", Charlotte attacked Bayley and aligned herself with Rae and Banks.
In the end of February 2014, Charlotte would confront NXT Women's Champion Paige during an interview with Renee Young after her successful title defense against Emma on the NXT ArRIVAL special episode, announcing herself as her next challenger. She would defeat Emma in a singles match March 6 episode of NXT, after faking an injury to gain the advantage. Charlotte and Banks then would go on to feud with Bayley, who had formed an alliance with Natalya. On the March 27 episode of NXT, Charlotte was defeated by Natalya via disqualification after Banks interfered. On April 6, Charlotte, along with Alexa Bliss and Banks, made an appearance at WrestleMania XXX as a part of Triple H's entrance to face Daniel Bryan. The feud between Charlotte and Paige ended on the April 24 episode of NXT, when Charlotte and Banks defeated Emma and Paige with Charlotte scoring the pinfall over Paige.
In early May, Charlotte competed in the tournament for the vacant NXT Women's Championship, defeating Emma in the first round, Alexa Bliss in the semi-finals and Natalya in the finals at NXT Takeover to win the NXT Women's Championship for the first time. After a 4 month absence from the show, Rae returned on the June 6 episode of NXT, distracting Bayley and allowing Charlotte to get the victory. After the match, the BFFs attempted to attack Bayley before Emma and Paige scared them off. This led to a six-Divas tag team match on the June 12 episode of NXT, which The BFFs lost after Bayley pinned Charlotte. On the July 3 episode of NXT, Charlotte would get retribution over Bayley in a tag team match, where she and Banks defeated Bayley and Becky Lynch. After the match, Charlotte let Banks get attacked by Bayley, with Banks officially disbanding the team in a backstage segment. On the July 24 episode of NXT, Charlotte successfully defended her championship against Summer Rae. Charlotte then went on to defeat Bayley at NXT Takeover 2: Fatal 4 Way to retain the championship, following the match Charlotte showed signs of a face turn when she saved Bayley from an attack by Sasha Banks. She repeated the feat on the October 2 episode of NXT in a rematch. After the match, Charlotte showed her respect by raising Bayley's arm before they hugged and shook hands, completing her face turn. Charlotte then rekindled her alliance with Bayley to feud with Sasha Banks and Becky Lynch throughout the following several weeks. She made her first appearance on the main roster on the Slammy Awards special episode of Raw on December 8, where she lost to Natalya. Three days later at NXT Takeover: [R]Evolution, Charlotte defended and successfully retained her championship against Sasha Banks. At NXT TakeOver: Rival, Charlotte lost the championship to Banks in a Fatal 4-Way match that also involved Bayley and Becky Lynch, ending her reign at 258 days. She failed to regain the championship in a rematch against Banks that took place on the March 4 episode of NXT. At NXT TakeOver: Unstoppable on May 20, Charlotte teamed up with Bayley to defeat Emma and Dana Brooke. After defeating Emma and Brooke again on the July 8 episode of NXT, this time teaming with Sasha Banks, Charlotte challenged Banks to an NXT Women's Championship match, which Banks accepted. They had their championship match the following week on the July 15 episode of NXT, in which Banks retained the championship. Afterwards, the two shared a hug and Banks raised Charlotte's hand as a sign of respect.
Charlotte made her official main roster debut on the July 13, 2015 episode of Raw along with Sasha Banks and Becky Lynch, after Stephanie McMahon called for a "revolution" in the WWE Divas division. While Charlotte and Lynch allied with Paige, who was feuding with Team Bella (The Bella Twins and Alicia Fox), Banks allied with Tamina and Naomi, leading to a brawl between the three teams. At Battleground, Charlotte defeated Sasha Banks and Brie Bella in a triple-threat match, with all members of the respective teams at ringside. The following night on Raw, Charlotte defeated Brie in a singles match. On the August 3 episode of Raw, Charlotte made the WWE Divas Champion Nikki Bella tap out in a tag team match. The three teams would ultimately face off at SummerSlam in a three team elimination match. Team Bella would first eliminate Team B.A.D., before Becky Lynch pinned Brie Bella to win the match for PCB. On the August 31 episode of Raw, all members of PCB competed in the first ever Divas Beat the Clock challenge; Becky defeated Alicia Fox to set a time of 3:21, however, Charlotte defeated Brie Bella in 1:40, and Paige failed to beat Charlotte's time, therefore Charlotte was named the number one contender to the Divas Championship. The title match between Charlotte and Nikki Bella was initially advertised for Night of Champions, but the match was rescheduled for the Monday preceding the pay-per-view on Raw, so that Charlotte would have a chance to defeat Nikki before she surpassed AJ Lee's record for the longest Divas title reign. During the match on Raw, Nikki switched places with Brie Bella, and Charlotte instead pinned Brie. Stephanie McMahon then declared Charlotte the winner by disqualification, and thus she did not win the title, however, McMahon announced a rematch between the two for Night of Champions, with the stipulation that should Nikki lose by count-out or disqualification, she would lose the title. At the event, Charlotte defeated Bella to win her first Divas Championship. During Charlotte's celebration the following night on Raw, Paige turned on her PCB partners and cut a worked shoot promo, berating them and the Divas division. On the September 28 episode of Raw, Paige walked out on Lynch and Charlotte during a six-Diva tag team match, leaving Charlotte to get pinned by Nikki. Throughout October, Paige, tried to reconcile with Lynch and Charlotte only to attack them and solidify her heel turn. At Hell in a Cell, Charlotte successfully defended the Divas Championship against Nikki Bella. In November, after Paige became the new number one contender for Charlotte's Divas Championship, Paige continued to provoke her towards their match at Survivor Series, where Charlotte once again retained her championship. On the November 24 episode of Raw, a rematch between the two took place, after Paige claimed Charlotte had cheated, but the match went into a double count–out.
In December, Charlotte displayed signs of a heel turn, after defeating Becky Lynch, by feigning a leg injury followed by a distraction by her father, and caused a loss for her match with Brie Bella. At TLC in December, Charlotte again successfully defended her title against Paige following multiple distractions from Flair, and solidified her villainous turn in the process. On the December 17 episode of SmackDown, Becky Lynch defeated Brie Bella after Charlotte attacked Brie. Afterwards, Lynch told Charlotte that she wanted to win on her own, to which Charlotte replied "I just didn't want you to lose." Lynch took this as an insult, thinking Charlotte was saying Lynch couldn't win cleanly on her own, widening the division between the friends and teasing Charlotte's heel turn a bit further. Charlotte solidified her heel turn on the January 4, 2016 Raw, after beating up Becky following her loss. Charlotte successfully retained the Divas Championship against Lynch, with help from her father, three days later on SmackDown, and at the Royal Rumble on January 24. In February, Charlotte began a rivalry with Brie Bella, and as part of the feud mocked Brie's husband Daniel Bryan on his retirement. At Fastlane, Charlotte successfully defended her championship against Brie. She also retained the title against Natalya at Roadblock, on March 12. Reanimating her rivalry with Sasha Banks and Becky Lynch, both women went on to compete in two matches to determine the number one contender for Charlotte's WWE Divas Championship at WrestleMania 32, with the first bout ending as a no contest, after a double pin occurred, and the second as well, after both Banks and Lynch were attacked by Charlotte. As a result, a triple threat match between Banks, Lynch and Charlotte for the Divas Championship was announced for WrestleMania. At the event, after it was announced during transmission that the Divas Championship would be withdrawn and would be replaced with the new Women's Championship, all three women compete for it in the triple threat match, in which she defeated Lynch and Banks with help of his father to become the inaugural champion in her WrestleMania in-ring début.
After being confronted by Natalya during Charlotte's championship celebration the following night, Charlotte made her first successful title defense against her on the April 11 episode of Raw. On the April 18 episode of Raw, Charlotte was confronted by Natalya during an interview where Natalya revealed that Shane McMahon has booked them in a rematch for the Women's Championship at Payback and that her uncle Bret Hart would be at her corner. At the event, she defeated Natalya after match referee Charles Robinson, ended the match as Charlotte held Natalya in the Sharpshooter submission hold, Natalya's signature finishing move, even though she had not submitted making reference to the Montreal Screwjob. After the match, both Natalya and Hart applied their finishing maneuver the "Sharpshooter" on Charlotte and Ric Flair. The following month at the Extreme Rules pay-per-view, Charlotte once again retained her title from Natalya in a submission match in which Ric Flair was banned from ringside, however, she was helped by Dana Brooke dressed as her father to provide a distraction on her. The following night on Raw, Charlotte turned on her father by claiming he was no longer needed, and aligned herself with Dana Brooke. At Money in the Bank on June 19, Charlotte and Brooke defeated Natalya and Becky Lynch. After being defeated by Paige on two occasions, she was granted a title match on the June 20 episode of Raw, where she successfully retain her title with help of Brooke, and would be attacked by her and Dana post-match, before being saved by Sasha Banks and reignite their feud, this led to a tag team match the following week on the June 27 episode of Raw, where Paige and Banks scored the victory. Followed by multiple attacks and matches between Brooke and Banks, it was announced that they would face off in a tag team match on July 24 at Battleground. At the event, they were defeated by Banks and her mystery partner, Bayley. After being drafted to Raw as part of the 2016 WWE draft which took place on July 19, Charlotte made her first appearance for the brand on July 25, where she dropped her Women's championship to Sasha Banks, ending her reign at 113 days.
After being defeated by Sasha Banks for the Women's Championship, five days later it was announced that Charlotte invoked her rematch clause to face Banks and compete in a title rematch at SummerSlam on August 21. On the August 1 episode of Raw, she was helped by Dana Brooke to win an intergender tag team match against Sasha, and one week later on the August 8 episode of Raw, her ally was set on a non-title match against Sasha, in which the stipulation was that if Brooke won it the match between her and Banks at SummerSlam would become a handicap match, but if Banks win it Dana was going to be banned from ringside at the event, which her ally would lose after a failed distraction by Charlotte and subsequently being banned from the match. At the event on August 21, Charlotte successfully regained the title from Banks and become the first two–time champion on the title's history. She successfully retained the title at Clash of Champions against Sasha and Bayley, but lost the title back to Banks in the main event of the October 3 Raw. At Hell in a Cell, Charlotte regained the title from Banks in the first ever female Hell in a Cell match to become a three-time champion. Charlotte gained the upper hand in the match due to delivering a powerbomb to Banks through one of the announce tables before the match officially began, which had injured her back. The following night on Raw, Charlotte was revealed as captain of Team Raw for Survivor Series. At Survivor Series, Team Raw defeated Team SmackDown with Charlotte and Bayley being the survivors for Team Raw. After the match, Charlotte attacked Bayley. The following Raw, Charlotte explained that she attacked Bayley because she no longer had to be Bayley's teammate. Sasha Banks then invoked her rematch clause. Charlotte agreed but insisted on the match taking place the following week's Raw in Charlotte's hometown. The match initially resulted in a double count-out but was rescheduled as a Falls Count Anywhere match. Sasha won after applying the Bank Statement as Charlotte was caught between a barrier forcing her to submit. Ric Flair then came out and celebrated with Sasha. The following week, a 30-minute Iron Man match between the two was scheduled for Roadblock: End of the Line. That same episode of Raw, Charlotte invited her father Ric to come to the ring to publicly apologize to him for disowning him earlier in the year. After she hugged him, she slapped him, claiming he turned his back on her. Sasha came to Ric's aid, but was overpowered by Charlotte. At Roadblock on December 18, the match resulted in a 2-2 draw but Charlotte defeated Sasha in overtime, becoming a record four time Raw Women's Champion.
Ad blocker interference detected!
Wikia is a free-to-use site that makes money from advertising. We have a modified experience for viewers using ad blockers

Wikia is not accessible if you've made further modifications. Remove the custom ad blocker rule(s) and the page will load as expected.